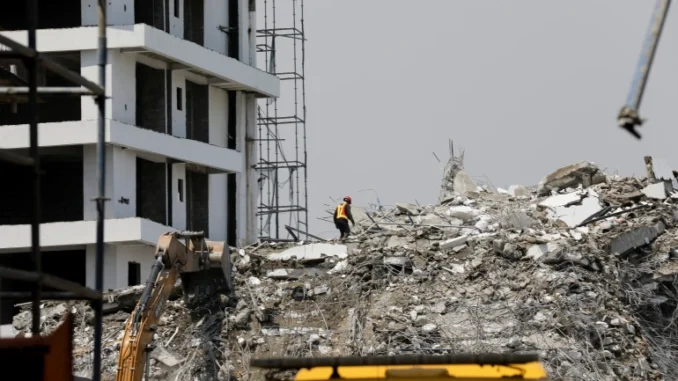 Two days after the collapse of a skyscraper under construction in Lagos, the economic capital of Nigeria, where at least 22 people died according to a new report released on Wednesday morning, the hope of families to find their loved ones alive is dwindling.
Dozens of workers were on the construction site located on one of the most chic avenues of Lagos, in the posh district of Ikoyi, when the skyscraper collapsed Monday afternoon.
"We recovered two bodies very early this morning, so the death toll is now 22," said Ibrahim Farinloye, an official of the National Emergency Management Agency (Nema)
A total of nine people were rescued from the ruins of the 21-story building. "We will not give up until we reach the ground," Farinloye said, adding that heavy equipment had been brought in Tuesday night for the clearing operations.
But two days after the collapse, hope of finding survivors is diminishing, and according to the families, who are stationed day and night in front of the site, the search stopped in the night. "What they are doing is not a rescue operation, but a recovery operation," says a dejected relative of one of the people trapped in the mountain of rubble.
Building collapses are a common tragedy in Nigeria, Africa's most populous country, where millions of people live in dilapidated buildings and building laws are regularly flouted.
Lagos State Governor Babajide Sanwo-Olu said Monday night that he had suspended the head of the regional building regulation agency and ordered an investigation.