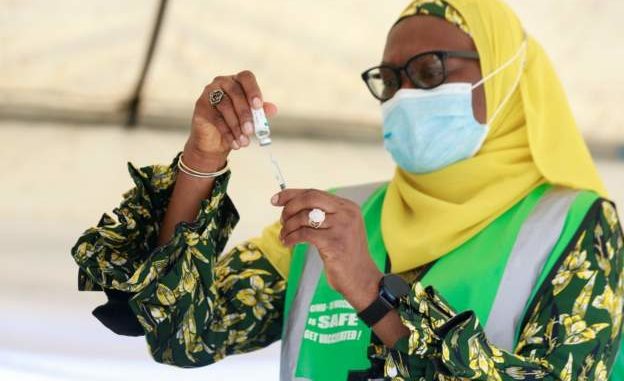 Vaccination is mandatory for all civil servants in the country. The government's decision comes as three cases of the omicron variant have been confirmed in the country. Nigeria has more than 215,000 cases of covid-19 infection and nearly 3,000 deaths.
Since 1 December, public service workers have been asked to submit PCR test results less than 72 hours old or a vaccination card as an alternative before being allowed access to their offices.
Months after the introduction of the vaccines, some Nigerians are still reluctant and unconvinced of the need to get vaccinated despite repeated assurances from the government that the vaccines are safe.
At the gate of the federal secretariat in Abuja, a vaccination pavilion is set up near the main entrance of the institution for those who wanted to be vaccinated. Crowds of people gather at the site every day to take the vaccine.
Vaccination sites are also set up in private health facilities, universities, churches and mosques, and shopping malls.
Federal authorities are holding a series of meetings to address the crisis, including the latest meeting with health commissioners from all 36 states last weekend, the first of its kind since the coronavirus pandemic began. The meeting was organized by the Nigerian Minister of Health, Osagie Ohanire.
Nigeria has so far been able to obtain more than 10 million doses of vaccine from AstraZeneca, Moderna, Pfizer Bio-N-Tech and Johnson & Johnson for a population of over 200 million.
According to the National Primary Health Care Authority, more than 7 million eligible Nigerians, representing 6.2% of the population, have received their first doses of vaccine. Meanwhile, more than 3 million Nigerians, representing 3.3 per cent of the population, have been fully vaccinated as of 2 December 2021.