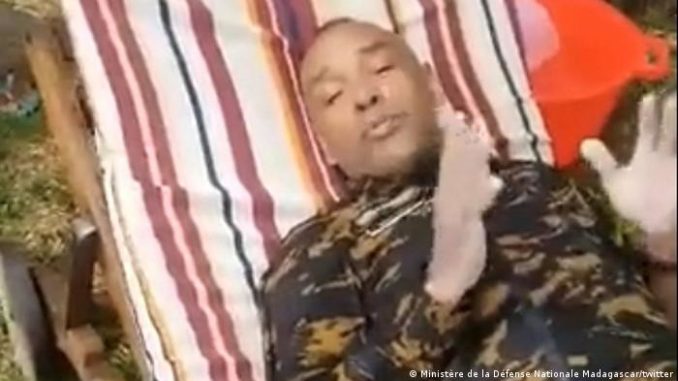 Madagascar's Secretary of State for the Gendarmerie, General Serge Gellé, swam nearly 12 hours to reach the shore after the helicopter carrying him crashed into the sea, the gendarmerie and maritime authorities said Tuesday.
In addition to the minister, the helicopter, which crashed off the northeast coast of the country, was carrying three gendarmes. One of them, ejected at the same time as Mr. Gellé, also survived, while the other two are missing, according to these sources.
The minister and the surviving policeman were found separately by local residents on the beach of Mahambo, about 75 km north of Toamasina, the major port city in eastern Madagascar, said the director of the maritime authority, Jean-Edmond Randrianantenaina.
According to him, "a priori, the two men were ejected from the helicopter and were then separated at sea. They were not together".
"My turn to die has not yet arrived, thank God" and "to the villagers and fishermen of Mahambo," said in a video posted on social networks, Serge Gellé, 57, rescued by local people.
The drawn features, dressed in fatigues and lying on a deckchair, the minister, a 57-year-old general of the gendarmerie, said he had "no injury, only cold". "I will be able to return to work within 24 hours," he said.
General Gellé has always practiced sports with great endurance. And he kept this rhythm even when he was a minister, like a 30-year-old. He has an iron morale, he was thrown by the waves and he did not let go. The general had used a seat cushion from the helicopter as a lifeline.
General Gellé is one of President Andry Rajoelina's new recruits and joined the government in the last reshuffle in August, after more than 30 years in the gendarmerie.
The helicopter was transporting the minister and the three gendarmes to Antseraka (north-east), a small town off the coast of which a ship sank on Monday morning, leaving at least 21 people dead and around 60 missing, according to an updated report from the maritime authorities on Tuesday.
The Malagasy gendarmerie has indicated that it does not immediately know the circumstances of the helicopter's crash.