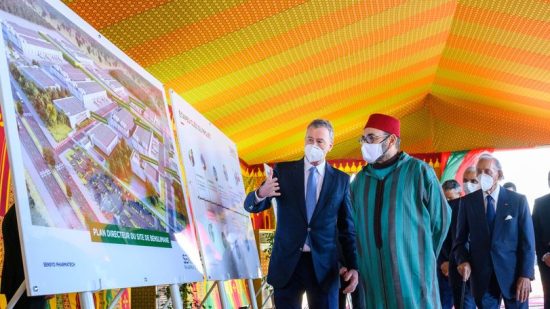 King Mohammed VI chaired on Thursday in the province of Benslimane, 50 Kms south of Rabat, the launching ceremony of a plant to produce locally Covid-19 vaccine and other vaccines.
Dubbed "SENSYO Pharmatech", the plant will cost between €400 million to €500 million and ensure the vaccine sovereignty of the Kingdom and the African Continent as a whole.
It will include 3 industrial lines expected to produce 116 million units in 2024. These lines will be dedicated to the production of pre-filled syringes, liquid vials and lyophilized vials. The projected investment is approximately €200 million, and the start of production of the trial batches is scheduled for July 30, 2022.
Part of a public-private partnership, the Benslimane project is supported by Swedish company Recipharm. It will enable the Kingdom to have self-sufficiency in vaccines and turn it into a leading biotechnology platform in Africa and in the "fill & finish" industry.
The plant, the largest in Africa in terms of capacity in Fill & Finish of vaccines in Africa, will eventually be among the world's top five in vaccines making.
This project aims, in the medium term (2022-2025), to transfer the aseptic filling and active substance manufacturing of more than 20 vaccines and bio-therapeutic products, including 3 anti-Covid-19 vaccines, to Morocco in less than 3 years, covering more than 70 pc of the Kingdom's needs and over 60 pc of the needs of African continent.
The building of this plant reflects the royal vision seeking to make the Kingdom a key biotechnology hub in Africa and in the world, capable of meeting the health needs of the continent in the short and long term, by integrating pharmaceutical research, clinical development, manufacturing and marketing of biopharmaceutical products of great necessity.
Thanks to transfer of know-how, Morocco will become the continent's locomotive in research, development and production of advanced biopharmaceutical products.
With the mobilization of aseptic filling lines available locally in Morocco and the transfer of the filling of vials in clean room of the vaccine against Covid-19 of Sinopharm to Morocco, the Kingdom produces more than 3 million doses locally per month.
Production capacity will increase to about 5 million doses starting in February 2022 and to more than 20 million doses per month by the end of 2022. By 2025, Morocco will be able to produce more than 2 billion doses of vaccine.