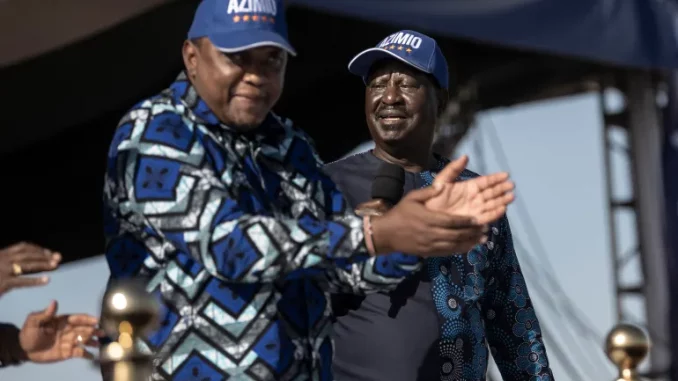 Kenyan President Uhuru Kenyatta has officially announced that he will support his former rival Raila Odinga in the upcoming August presidential election. The endorsement seals the coming together of two of the great political dynasties that have historically fought each other at the ballot box to lead Kenya.
"We have chosen Raila Odinga to be the 5th president of Kenya," President Kenyatta told several thousand of his supporters gathered in Nairobi.
In 2018, Uhuru Kenyatta and Raila Odinga had stunned the country by shaking hands and declaring a truce after the 2017 post-election violence that left dozens dead.
In 2007-2008, another wave of post-election violence had already left more than 1,100 people dead.
Last month, Kenyatta's Jubilee party announced it was joining Raila Odinga's Azimio la Umoja (Quest for Unity) coalition for the presidential and parliamentary elections in the summer.
"We have no doubt that we have a team captain named Raila Odinga," said Uhuru Kenyatta on Saturday. He is completing a second term in office and cannot stand for re-election under the Kenyan Constitution.
At 77, Raila Odinga, who will run for a fifth presidential election, said he accepted "this appointment with absolute gratitude and dedication to our people.
This alliance between Kenyatta and Odinga leaves out Vice President William Ruto, who was initially intended to succeed Kenyatta, but who is also planning to run in the presidential election next August.