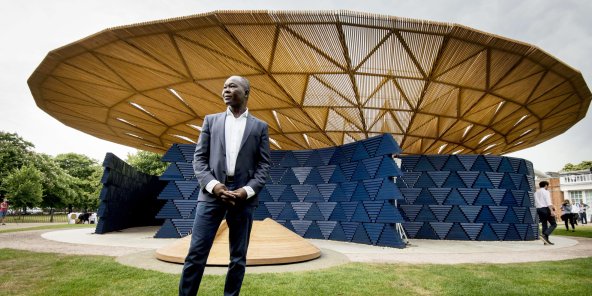 An African winner of the 2022 Pritzker Prize. This is a first. The greatest prize in architecture was awarded this Tuesday, March 15 to Diébédo Francis Kéré from Burkina Faso. At 56 years old, this architect now works all over the world. His agency is based in Berlin, but Diébédo Francis Kéré has never forgotten the African continent, and especially Burkina.
Mali, Togo, Benin, Kenya, Sudan, Mozambique, Diébédo Francis Kéré has built in the four corners of the African continent. This child of Gando, in the center-east of Burkina Faso, has come a long way since the time when he was learning carpentry alongside French Jesuits. At the age of 17, Diébédo Francis Kéré was awarded a scholarship to study in Germany where he trained as an architect.
There, he was inspired by pre-industrial techniques that he wanted to adapt to the African context. It was in his native village, Gando, that he built his first building in 2001: a school, constructed with the help of the local population.
Diébédo Francis Kéré uses local materials: earth, granite, wood, which has earned him the title of pioneer in sustainable architecture. But the builder explains that it is mainly a method of Coué: using what is on the spot is above all a necessity.
Among the architect's current projects: the construction of the Beninese Assembly in Porto Novo, inspired by the palaver tree. Diébédo Francis Kéré has also designed the future Assembly of Burkina Faso, the construction of which is on hold due to the country's recent political upheavals.