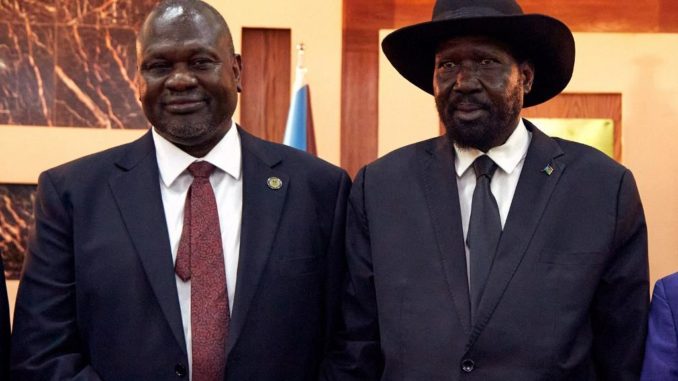 Faced with growing tensions with President Salva Kiir, his vice president Riek Machar is trying to get help from East African countries gathered in the Igad bloc and in particular from the northern neighbor, Sudan. Khartoum is indeed one of the guarantors of the South Sudanese peace agreement, signed in 2018 after five years of civil war.
On Saturday, March 26, in response to the "deteriorating security situation," as Mr. Machar put it, he wrote a letter to the president of Sudan's Transitional Council, General Abdel Fattah al-Burhan. He called for urgent intervention by the guarantors of the peace agreement. The past week has seen a rise in tensions in South Sudan, with Riek Machar's withdrawal from the oversight of the security aspects of the peace agreement, and reported fighting in Upper Nile State.
It is a helpless plea for help from Riek Machar to General al-Burhan. In February 2020, Machar reluctantly agreed to return to Juba without his army. A "unified force" of government and rebel troops was planned. But since then, the unification has not taken place. In his letter, Riek Machar asks that the unified forces finally be created.
The vice president also denounced the "systematic attacks" on his bases by the government army. According to him, these attacks are increasing and are "evidence" of the deterioration underway, "a cause for serious concern today," he wrote.
"We urgently request," Machar continued, "the intervention of Igad and other international partners to convince President Salva Kiir not to plunge this country back into war. The official is calling for the demilitarization of the country's main cities and a halt to "attacks" on the cantonment and training sites of opposition soldiers.
On Monday, March 28, security forces were deployed near the presidential palace, and Riek Machar, the vice president, denounced the encirclement of his residence during the night from Sunday to Monday. Even though the encirclement was lifted early in the morning, tensions have risen.
Riek Machar accuses Salva Kiir of having initiated a series of attacks against the opposition's bases. The president reiterated the need for "sustained dialogue. He did not mention the fighting of the past few days, although he did refer to "incidents along the way. The president urged the South Sudanese "not to panic" because, he said, "the implementation of the agreement is on the right track.
Emphasizing the importance of the work of the Truth and Reconciliation Commission, President Salva Kiir affirmed his intention to shed light on the atrocities committed during the civil war. He also ordered the National Security to "declassify all information in its possession concerning the genesis of the conflict.