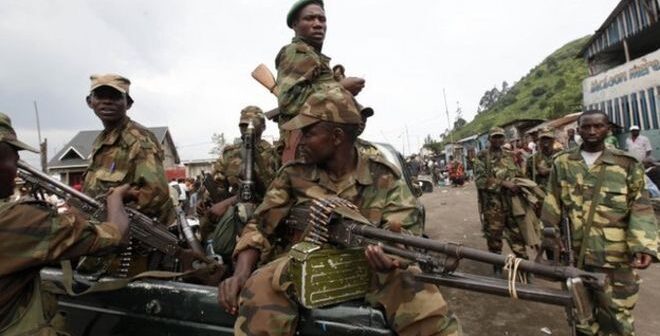 After months of suspicions and decades of mistrust, the army of the Democratic Republic of Congo is clearly accusing the Rwandan army of supporting an active rebellion in the eastern DRC. The authorities in Kigali denied Tuesday.
Ongoing fighting between the Congolese army and the M23 (for "March 23 Movement"), which began Monday, continued Tuesday in the region.
The UN Mission in the DRC, Monusco, announced early this afternoon on Twitter that it had lost contact with one of its helicopters on a reconnaissance mission in the area. "The causes of this disappearance are not yet known, searches are underway," the mission added.
On Monday evening, General Sylvain Ekenge, spokesman for the military governor of North Kivu province, had accused the Rwandan Defense Forces (RDF) of supporting the M23, which, he said, had "carried out incursions and attacked FARDC (Congolese Armed Forces) positions in Tchanzu and Runyoni, in the Rutshuru territory.
Invited by TV5 Monde's Journal Afrique, the Congolese Minister of Communication and government spokesman, Patrick Muyaya, then used the conditional but nonetheless made the point: "It is time to put an end to this form of hypocrisy that would exist or this form of complicity between the M23 and the government of Rwanda," he said, "because we want to look at Rwanda as a partner country, as we look at Uganda.
"We categorically refute the baseless accusations" of the Congolese army, the governor of Rwanda's Western province, François Habitegeko, said in a statement Tuesday. The Rwandan army "is in no way involved in warlike activities" in the DRC, he added.
Since the massive arrival in the DRC of Rwandan Hutus accused of massacring Tutsis during the 1994 genocide, Rwanda has been regularly accused by Kinshasa of incursions into Congo and of supporting armed groups in the east of the country.
Relations eased with the accession to power in early 2019 of Felix Tshisekedi, who has met several times with his Rwandan counterpart Paul Kagame. But the renewed activity of the M23 has rekindled suspicion.