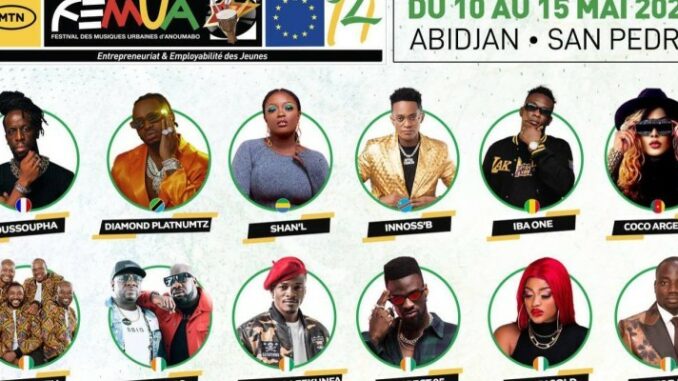 The Anoumabo Urban Music Festival (Femua), organized each year by the famous Ivorian group Magic System, will bring together a dozen artists including the French rapper Youssoupha and the Cameroonian singer Coco Argentée, from May 10 to 15, Salif Traoré, known as A'Salfo, announced.
The festival will take place as every year in Abidjan, but some of the concerts will be held in San Pedro, a large port in the southwest of the country.
"We decided to associate San Pedro to this edition because of its beautiful beaches which are strategic for the development of tourism in Côte d'Ivoire" explained A'Salfo.
For this fourteenth edition of the festival, created in 2008, several international artists will perform alongside their Ivorian colleagues.
The French rapper Youssoupha is expected as well as the queen of Cameroonian bikutsi Coco Argentée, the Congolese Innoss B', the Malian Iba One, the Gabonese Shan'L and the Tanzanian Diamond Platnumz.
On the Ivorian side, the zouglou stars Yodé and Siro will be among the headliners of this Femua.
The Democratic Republic of Congo (DRC) will be the guest country of the festival, a tribute to Papa Wemba, the idol of Congolese song, who died on stage during the 2016 edition.
The group Magic System, which celebrates its 25th anniversary in 2022, has had a string of hits in Africa and Europe since its first big success "Premier Gaou".
It has played on several international stages such as the Apollo in New York or the Olympia in Paris, and also participated in the concert celebrating the victory of French President Emmanuel Macron at the Louvre in 2017.
The group plays zouglou, a very popular committed musical genre born in 1990 in Abidjan's university cités. This music addresses societal problems, not hesitating to criticize politicians, bad governance or corruption.