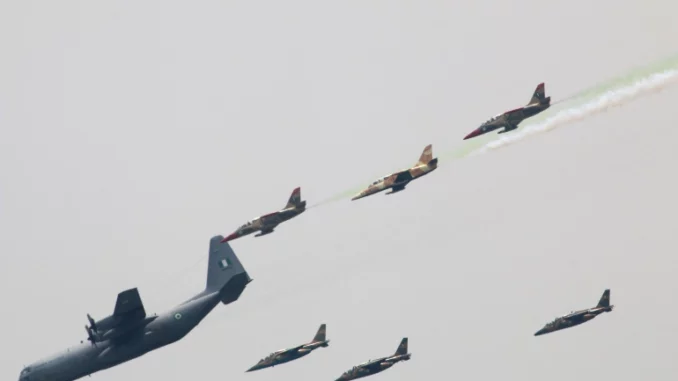 Two soldiers flying a training plane were killed Tuesday when their aircraft crashed in Kaduna, northwestern Nigeria, an air force spokesman said Wednesday.
Chief of the Air Staff Marshal Oladayo Amao visited Kaduna "earlier today to express his solidarity with the families, friends and colleagues of the two pilots … who lost their lives in this tragic accident," spokesman Edward Gabkwet said in a statement.
The Nigerian Air Force will conduct "a thorough investigation into the causes of the crash of the Super Mushshak trainer aircraft," he continued, quoting Marshal Amao.
Several military aircraft have crashed in recent years in Nigeria, the most populous country in Africa and plagued by numerous troubles. The northwest and central parts of Nigeria are the scene of criminal gangs that attack, loot and kidnap villagers, steal their livestock and burn their homes.
In July 2021, the army announced that one of its fighter jets had crashed after coming under fire from "bandits" in the northwestern state of Zamfara. The pilot managed to eject before being rescued. Two months earlier, in May, 11 officers, including the then army chief, General Ibrahim Attahiru, were killed when their plane crashed in bad weather in Kaduna State.
President Muhammadu Buhari, a former army general who has been in power since 2015, is facing increasing criticism for his inability to provide security for the country's estimated 215 million people.
Nigeria's underfunded military, accused of mismanagement, has also been fighting a jihadist insurgency in the country's northeast since 2009, a conflict that has left more than 40,000 dead and two million displaced.