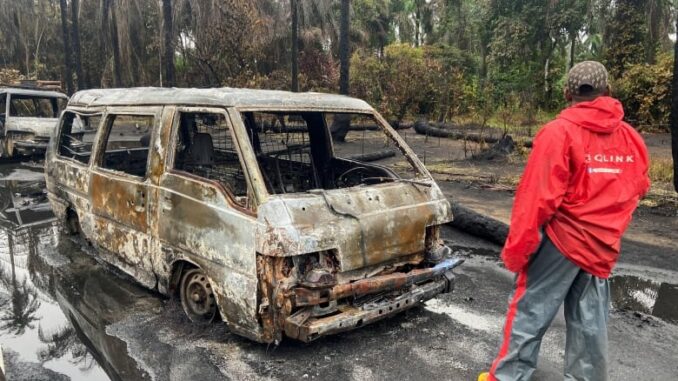 An explosion at a clandestine refinery has killed at least 110 people in the Niger Delta oil region of southern Nigeria, already devastated by decades of vandalism and illegal oil exploitation.
The explosion occurred at the beginning of the weekend at an illegal site between Rivers and Imo oil states, according to police and emergency services. "The new death toll is now 110, up from 80 in the previous one, as several people with severe burns succumbed to their injuries," said Ifeanyi Nnaji, a local official of the National Emergency Management Agency (NEMA).
"We have learnt that many bodies are lying in the bush and nearby forests," he added, adding that several burnt-out vehicles and jerry cans littered the oil-blackened ground.
Police confirmed that the explosion took place at an illegal refinery site where operators and their clients had gathered to traffic. "Several burnt, unrecognizable bodies lay on the ground, while others, who tried to run away, were hanging from the branches of trees," said Fyneface Dumnamene, director of the NGO Youths and Environmental Advocacy Centre (YEAC).
Some local media reported that more than 100 people, mostly young men, were killed in the blast, the latest in a long line of such tragedies in Nigeria.
President Muhammadu Buhari called it a "national disaster" in a statement issued by his office. He also called on law enforcement agencies to step up their crackdown on illegal refineries.
An investigation has been launched to determine what caused Friday's explosion, said the boss of the National Oil Spill Detection and Response Agency (NOSDRA), Idris Musa. "Investigations are ongoing and the fire that was raging after the explosion has subsided," he said.
The owner of the illegal refinery is being sought.