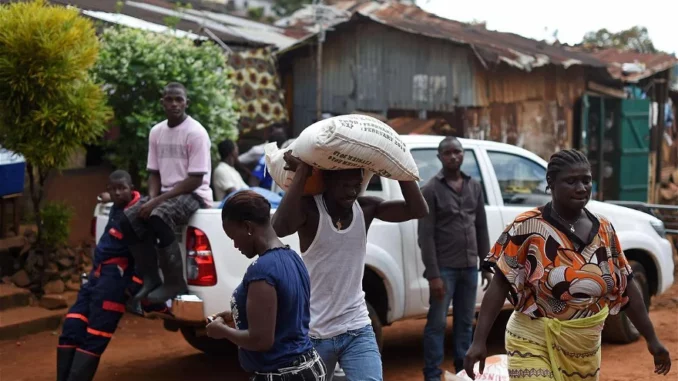 Soaring food prices are causing the International Monetary Fund to fear "social unrest" on the continent.
"Fears about food security have increased sharply" with the war in Ukraine and soaring food prices, increasing "the risk of social unrest" in vulnerable countries, the Washington-based institution warned Thursday in a regional report.
"We are very concerned about the recent surge in food and fuel prices" on the continent, commented the director of the Africa Department at the IMF, Abebe Aemro Selassie, noting the risks of "social protests".
"This shock hits in an extremely targeted way the poorest, by increasing the prices of food, fuel and transport in general, and at the end of the chain the producers of goods and services who raise their prices," he continued.
The surge in food prices is unprecedented: they reached a new record in March and erased the previous high of 2011, according to the index of the Food and Agriculture Organization of the United Nations (FAO), which includes prices of vegetable oils, cereals or dairy products.
Two months after the start of the war in Ukraine and while the conflict shows no sign of abating, "rising food prices will exacerbate food insecurity and social tensions," the IMF fears.
It was precisely a sharp increase in the price of basic foods that preceded the "hunger riots" of 2008, protest movements of varying degrees of violence in some thirty countries, notably in Senegal and Cameroon, as well as in the Maghreb and the Caribbean.
Should we fear another act 2? The IMF remains cautious about potential violent revolts. FAO Director-General Qu Dongyu drew a parallel in April between the 2008 explosion and the current situation: both crises are marked by soaring food, fuel, fertilizer and transport prices, he said.
The situation is potentially even more problematic this time, he added, because of two years of pandemic and the major risks to next year's crops from the war in Ukraine.