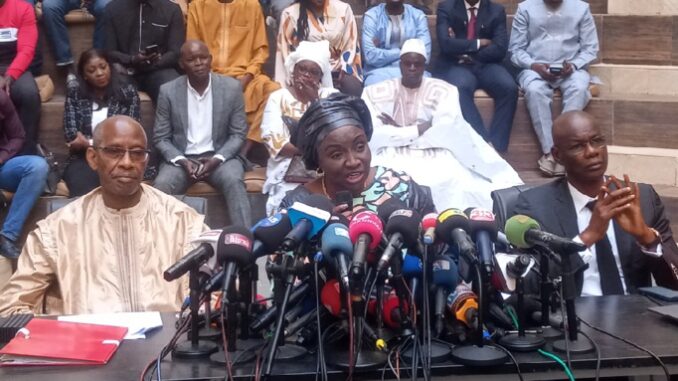 Senegal is experiencing an intense debate about the validity of some lists for the July 31 legislative elections. The Constitutional Council published its decisions on Tuesday after appeals filed by the opposition.
The Constitutional Council authorizes the opposition coalition Yewwi Askan Wi to modify its list for the department of Dakar.
This list had been invalidated by the General Directorate of Elections. Reason: non-compliance with the parity. This had provoked the anger of the mayor of Dakar, Barthélémy Dias, also head of list in the department.
According to the wise men of the Constitutional Council, the coalition Yewwi Askan Wi can indeed "withdraw and substitute" candidates. A relief for the coalition.
Another decision published Tuesday concerns the list of the coalition of the majority Benno Bokk Yakaar, which had filed more sponsorships than the number required by law. The opposition had appealed to the Council to have this list invalidated. But according to the institution, these appeals are "inadmissible".
These two decisions are in the direction of "appeasement", according to human rights defender Alioune Tine, of the think tank Afrikajom Center.
But this is not the end of the debate: the two main coalitions accuse each other of having made other mistakes on the lists. The reasons invoked are non-compliance with parity on the list of the majority or the nomination of the same person twice on the national list of Yewwi Askan Wi …
"This is the first time in the history of Senegal that we have had to make a mistake. This is the first time in the history of Senegal that we have so many problems," said former mayor of Dakar Khalifa Sall, who spoke of "cacophony."
The former mayor of Dakar and one of the leaders of the coalition Yewwi Askan Wi called for a rally against what he called "loot", "double standards" of the electoral administration, to "dismiss the opposition" according to him.
Ousmane Sonko, head of the national list for Yewwi Askan Wi, for his part called for "resistance", with a call for a "mobilization of 200,000 people" in Dakar.
Meanwhile, the presidential coalition accused the opposition of "smoke and mirrors. The tone has therefore risen in view of the legislative elections. Several civil society organizations have warned of the risk of political violence.