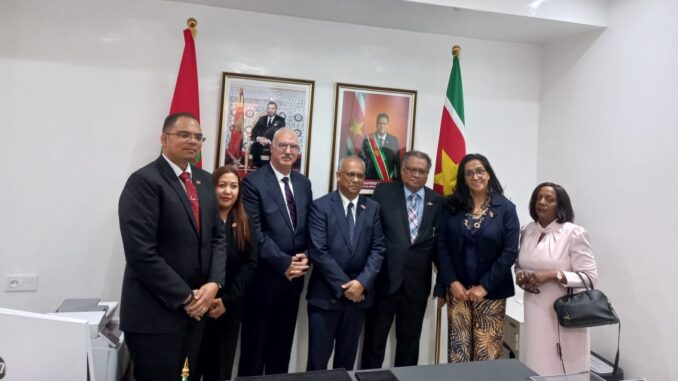 The Republic of Suriname has reaffirmed this Thursday its unwavering support to Morocco's sovereignty over its Sahara by the official inauguration of a Consulate General in Dakhla.
The inauguration ceremony of the consular mission was chaired by Surinamese Foreign Minister Albert Ramdin, who is currently on a visit to Morocco, and the governor of the Aousserd region Abderrahmane El Jaouhari, in the presence of several elected officials and consuls accredited in Dakhla.
On Wednesday, Suriname also inaugurated its embassy in Rabat, a move that emphasizes the commitment of the South American country to boost its relations with Morocco.
In a joint statement issued after the talks held with his Moroccan peer Nasser Bourita in Rabat Wednesday, the Surinamese official reaffirmed Suriname's recognition of Morocco's sovereignty over its Sahara, and expressed full support for the Autonomy Plan as the unique basis for a political solution to the regional dispute in full respect of the territorial integrity and national sovereignty of Morocco and for bringing peace and stability to the region.
During these talks, Bourita welcomed the opening of Surinam's diplomatic and consular representations in Morocco as two mechanisms to consolidate cooperation between the two countries and give a new dynamic to bilateral relations.
Bourita also informed his interlocutor of the latest developments on the Sahara issue and stressed the ever-growing support of the international community to the Moroccan autonomy plan under the sovereignty of Morocco, as the only basis for a consensual political solution to this regional dispute.
The Moroccan official reiterated, in this regard, Morocco's commitment to the ongoing political process conducted under the exclusive auspices of the United Nations.
Suriname's position on the Sahara issue is part of a support wave for the national cause expressed by several countries around the world, especially in the Caribbean region. A total of 12 countries out of 14 in this region have changed their positions in favor of Morocco on the Sahara issue.
Surinam's consulate brings to 25 the number of consular representations opened in the cities of Dakhla and Laayoune.