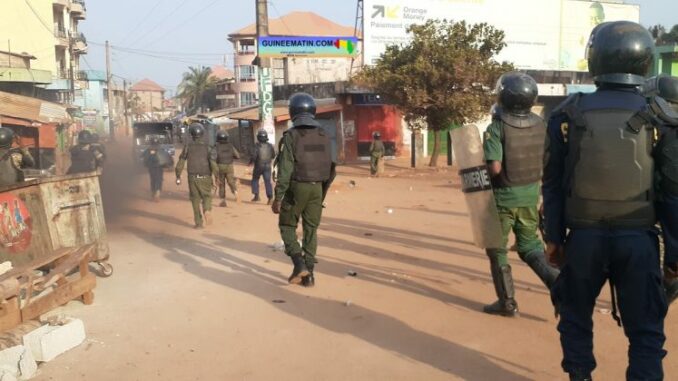 A young man was shot dead Wednesday in Conakry during clashes between security forces and demonstrators protesting against rising fuel prices, family members reported Thursday.
"Thierno Mamadou Diallo was shot in the head," said Halimatou Diallo, the victim's sister. The judiciary and the police have confirmed the death of a 19-year-old and assured that an investigation would be opened.
This is one of the first deaths in a context of confrontation between demonstrators and security forces since Colonel Mamady Doumbouya took power on September 5, 2021.
The last two years before the overthrow of President Alpha Conde were marked by political demonstrations against a third term for Conde and a crackdown on the protesters. Dozens of civilians were killed, according to human rights organizations, which have repeatedly denounced the excessive use of force and impunity by the police and gendarmerie.
Guinea has been largely free of unrest since September 2021. But this week's announcement of an increase in the price of gasoline has provoked localized protests.
According to his relatives, Thierno Mamadou Diallo was shot while driving through the Hamdallaye neighborhood in the suburbs of Conakry, where young people were demonstrating against the fuel price hike.
As a convoy of police and gendarmes passed by, some youths "started throwing rocks at the law enforcement officers; in the confusion my brother was shot in the head," said his sister Halimatou.
An adopted sister, Tahirou Diallo, also said her brother was a stranger to the demonstration. According to her, he had gone out to run an errand and "it was on the way back that he got shot."
"I learned with bitterness of the death of a young man named Theirno, aged 19, who died in circumstances not yet clarified," Attorney General Alphonse Charles Wright told the press. He said he had given instructions to determine the circumstances of death.