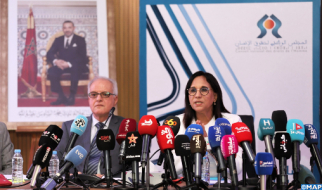 The 23 migrants, who lost their lives during last month's attempt by some 2,000 migrants to storm the crossing point between the Moroccan city of Nador and Spanish enclave Melilia, died of asphyxiation in a stampede, according to a preliminary report released Wednesday by Moroccan National Human Rights Council (CNDH).
Furthermore, Moroccan law enforcement agents did not open fire on migrants during their coordinated assault which was "unprecedented in nature, tactics used and scope", affirmed the Human Rights Watchdog in its report drafted following a fact-finding mission on the events of June 24.
The mission members met separately with authorities, NGOs and injured migrants at the hospitals. 217 people were injured, including 140 law enforcement officers and 77 migrants during their violent mass assault of the Nador border fences, said the CNDH report.
It described the crossing attempt as swift and well-organized, taking place in broad daylight in a concentrated area contrary to previous border storming attempts.
After reaching crossing point, the migrants jostled in a very narrow and tightly secured space, while the turnstile gates remained firmly closed, leading to deadly stampede and number of injuries, underlined the CNDH report.
The fact-finding mission could not determine whether the injuries of some of the migrants were caused by falling down the border fences and jostling or were the result of a disproportionate use of force.