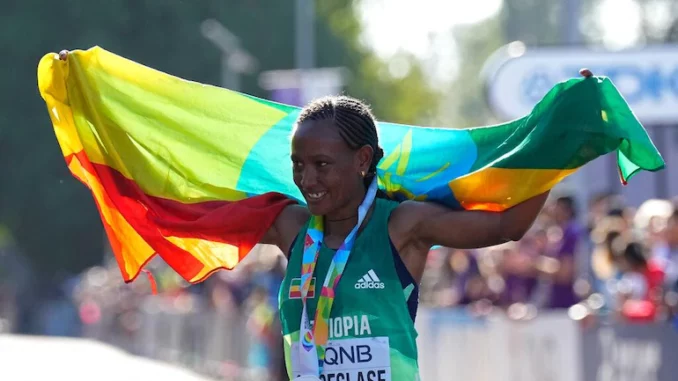 Ethiopia's Gotytom Gebreslase was crowned world marathon champion in a personal best time of 2 hours 18 minutes 11 seconds ahead of Kenya's Judith Jeptum Korir and Israel's Lonah Chemtai Salpeter in Eugene, Oregon on Monday.
The 27-year-old Gebreslase won her first major title with a World Championships record, one day after Ethiopia won the men's marathon with Tamirat Tola. Korir and Salpeter also reached the world podium for the first time.
The outgoing world champion, Ruth Chepngetich from Kenya, withdrew before the halfway point due to intestinal problems.
Gebreslase, alone in the lead with Korir at the beginning of the last of the three 14km loops, gave up on the Kenyan in the 41st kilometre, finally finishing second in 2h 18 min 20 sec.
The race, which started at 06h15 local time, started at a very fast pace. So much so that after only five kilometres, there was already a group of eight riders at the front, with three Kenyans and three Ethiopians, plus Salpeter. At the ten kilometre mark, this group was more than thirty seconds ahead of the closest chaser.
It was reduced by half again before the halfway mark. Gebreslase and Korir got rid of the Kenyan Angela Tanui, then of the Ethiopian Ababel Yeshaneh before the last loop.
Salpeter then made a good comeback to win bronze in 2 h 20 min 18 sec, just over two minutes behind the winner of the day.
Only one female marathoner ranked in the Olympic top 20 last summer in Sapporo, northern Japan, was at the start on Monday morning.