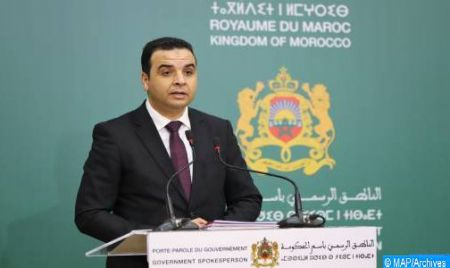 The Moroccan government has denounced the baseless allegations published by Human Rights Watch (HRW) in its latest report, affirming Morocco will continue consolidating the rule of law and defending human rights & freedoms.
In a statement to media on Thursday, the Government Spokesman Mustapha Baitas said the biased allegations reported by HRW will not discourage Morocco from continuing to advance the rule of law & institutions and defend rights and freedoms.
The HRW report, which undermines the symbols of the Kingdom, is just "a compilation of allegations that this organization usually brings up against Morocco," said the Spokesman, who also holds the portfolio of minister for Relations with the Parliament.
The smear campaign waged against Morocco has reached its apex, to the point of making "unrealistic accusations" against the Kingdom, underlined the minister, noting that this document contains "serious accusations" seeking only to trigger a row between Morocco and its partners.
The Moroccan Association of Media and Editors (AMME) also denounced the harassment of Morocco by HRW, which remains faithful to its approach of partiality, in contradiction with the principles of neutrality, objectivity and credibility in the drafting of thematic reports on international human rights.
By doing so, this organization has failed in its mission and revealed its true suspicious political identity, the Association added in a statement.
As part of its mission to monitor the situation of Moroccan journalists and contribute to the serious public, legal and constitutional debate on the freedom of opinion and expression and other fundamental rights related to it, the AMME has taken note of the report published by HRW which goes against the ethical approaches in drafting reports on human rights, with a play on words that hides other irresponsible aims unrelated to the topics in this report.
The Association denounced the fact that the report is flooded with gratuitous accusations without any evidence and with attacks on Moroccan national institutions, noting that the document deliberately denigrated, with rancor, all the achievements made by Morocco in recent years.
While expressing its astonishment at the timing of the publication of the report, which coincides with the celebration by the Moroccan people of the Throne Day, the AMME records with great regret that the Human Rights Watchremains faithful to its baised approach, in contradiction with the principles of neutrality, objectivity and credibility in the drafting of thematic reports on international human rights, written in modern languages, "which we consider as a kind of misinformation and deception of international public opinion".
It also expressed its regret at misleading the international community into believing that Morocco is still living under the era of the years of lead with which the Kingdom broke, under the leadership of HM King Mohammed VI, with unparalleled boldness and courage, by putting in place practical, legal and constitutional mechanisms for equity and reconciliation.