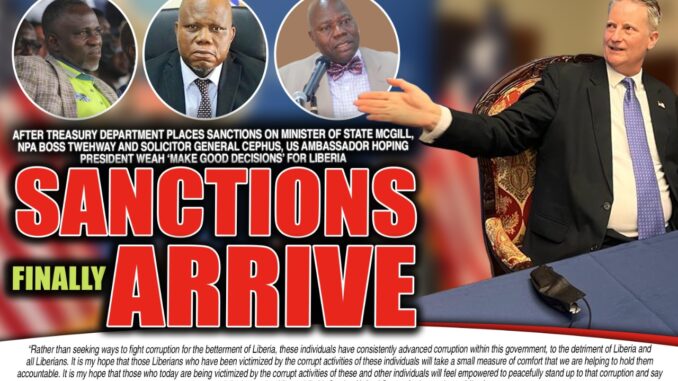 Pressure is mounting on President George Weah in the wake of sanctions imposed by the United States on three of his close associates for corruption. The sanctions include his Chief of staff and the country's Attorney general. They are accused of "abusing their positions to undermine the independence of democratic institutions for personal gain".
US Ambassador Michael McCarthy urged the Liberian leader to "make good decisions", reminding President George Weah of his 2017 campaign promise. At the time, the former footballer promised Liberians that he would narrow the gap between rich and poor and ensure that public funds did not end up in the pockets of senior officials.
A "rigorous" investigation by the Treasury Department now contradicts this. According to Washington, the president's inner circle has become so rich that corruption has become the dominant issue in bilateral relations.
The individuals targeted are well-known figures in Liberia: Bill Twehay, who heads the National Port Authority; Attorney General Sayma Syrenius Cephus, who has been accused by some of blocking serious anti-corruption investigations; and Nathaniel McGill, George Weah's chief of staff, who is considered a close ally. A separate statement from the Treasury Department said he 'received bribes' in government contracts.
All of them will have their assets frozen in the US and will not be able to travel or do business in Washington. But for the Liberian opposition, sanctions are not enough, and calls are growing for their resignation.