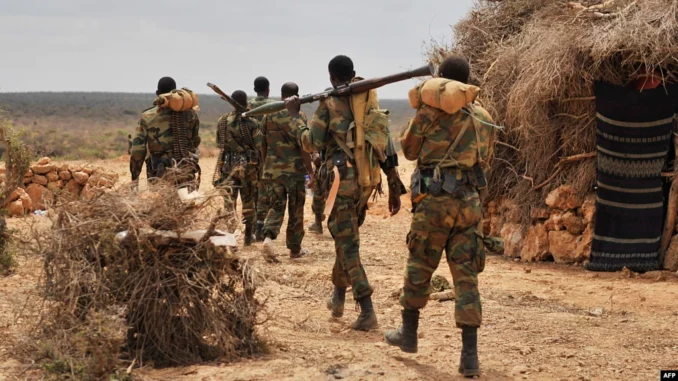 Over 20 civilians were killed in an attack by the Al-Shabaab terrorist group on a convoy carrying food supplies in central Somalia, officials said on Saturday.
The victims of the attack, carried out in the Hiran region, included drivers and passengers in the convoy, according to security officials in the region.
Somali officials and residents say al-Shabab militants shot and killed at least 21 travelers in the country's central region of Hiran on Friday night.
The killings occurred in the outskirts of Beledweyne, a town around 300 km north of Mogadishu, Mahas District Commissioner Mumin Mohamed Halane told VOA.
"The militants ambushed the travelers in nine vehicles, indiscriminately opened fire on them and killed 18 civilians," Halane told VOA over the phone.
"Three more civilians died when improvised explosive device apparently planted by the militants targeted their vehicle in the same area," he added.
"Al-Shabab is targeting civilians because they are in a desperate situation and want to make the locals surrender. That will never happen. We will fight with them to our last drop," Halane said.
According to VOA, the militants burned trucks laden with relief food.
A government statement posted on the website of the state news agency, Sonna, confirmed that al-Shabab fighters had burned trucks carrying relief food to Mahas and "killed most of the people on board the vehicles."
In the statement, the government condemned the al-Shabab attacks on civilians as "heinous and cowardly".
The "Somali National Army will retaliate with its own punitive military measures," the statement said.
The terror group has been conducting deadly strikes in the country against government officials and African Union peacekeepers since 2007.