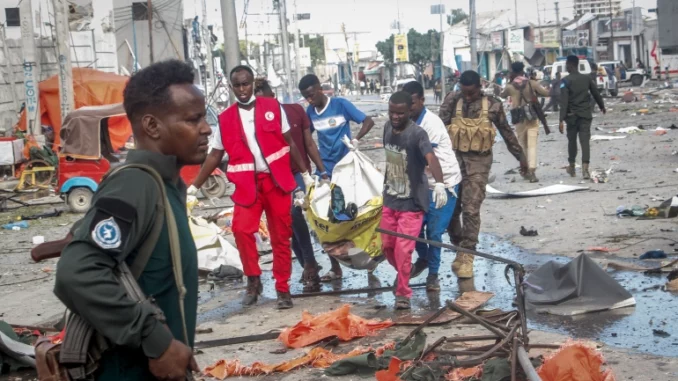 In Somalia, another deadly attack hit Mogadishu on Saturday, October 28. According to the latest official report from President Hassan Sheikh Mohamoud, at least 100 people, including women and children, but also a young local journalist, were killed in a double car bombing on a busy avenue in the capital. Another 300 were injured in the attack, which was again attributed to the Shebab jihadist group.
This is the usual Shebabs' modus operandi: first a car loaded with explosives opens the way and does the first damage, then a second one explodes in the same place a few minutes later. This was the story told once again by witnesses to Saturday's double attack, which occurred at the entrance to and along a wall bordering the Ministry of Education in the area known as "K5" in Mogadishu, or the "Zobe" junction.
"Ruthless terrorists killed mothers. Some of them died with their children trapped on their backs," Somali police spokesman Sadik Dudishe told a news briefing earlier, adding that the attackers had targeted "students and other civilians.
One of the vehicles packed with explosives managed to enter the ministry compound, triggering gunfire, said another police officer Ibrahim Mohamed. "A few minutes later, another explosion occurred in the same area," he added.
According to a witness, Abdirahman Ise, there were many people on the road alongside the ministry at the time of the first explosion.
It was there in October 2017 that the Shebabs had committed the deadliest attack ever in Africa, killing more than 500 civilians with a truck bomb. A commemorative plaque had been placed there, to salute the memory of the victims of this attack that has permanently traumatized Somalia.
This attack comes after several months of "total war" decreed by the new president Hassan Sheikh Mohamoud against the jihadist group. A military "total war", but also an economic, local and spiritual one, as the new government is trying to cut the shebabs off from their financial resources, but also from their clan affiliations in the countryside, and from their religious arguments, by obtaining, for example, the public support of respected Islamic personalities at a conference.