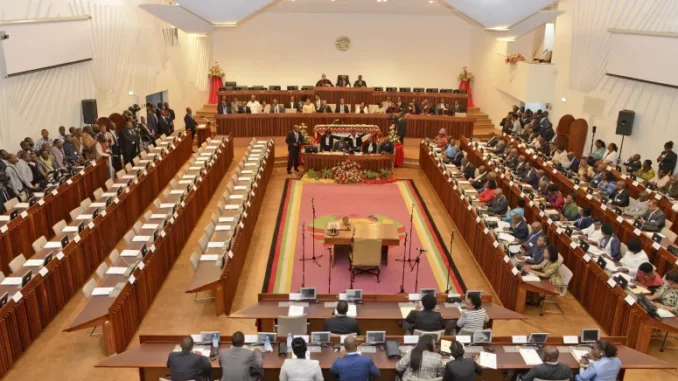 The Mozambican parliament yesterday recommended to the Planning and Budget Committee to draft a resolution on the State General Account for 2021 to be voted on by the plenary on a date to be announced.
The president of the Assembly of the Republic, Esperança Bias, pointed out that the General State Account (CGE) will not be voted on directly, but through a resolution by the parliament's Planning and Budget Commission.
In the document, the referred commission recommends the vote or disapproval of the account.
Esperança Bias was speaking at the end of the debate session, which lasted two days.
During the discussions, the benches of the Liberation Front of Mozambique (Frelimo), ruling party and with parliamentary majority, recommended the approval of the document, considering there was an effort by the Government to increase funds for sectors with impact on poverty reduction.
For its part, Resistência Nacional Moçambique (Renamo), the main opposition party, defended the lead of the CGE, arguing that the executive persists in disrespecting recommendations of the Administrative Court in the execution of the State Budget.
"The Administrative Court points out serious errors and repeated violations of the law, which embodies arrogance, arrogance and disrespect for state institutions and Mozambicans," said the Renamo parliamentary group in the opinions addressed to parliamentary committees.
The third party, the Mozambique Democratic Movement (MDM), also called for the disapproval of the CGE, accusing the government of "sponsoring corruption" by ignoring an alleged mismanagement of state resources in the institutions under its tutelage.
Commenting on the positions of the parliamentary groups, the Prime Minister, Adriano Maleiane, today reiterated the government's commitment to rigorous management of public accounts, through measures and policies aimed at "planning, budgeting and effective implementation of state resources.
The CGE has never been disapproved by parliament, because Frelimo makes the document viable, by virtue of the majority it has always held in Parliament.
In contrast, the opposition has always voted against the document, accusing the Frelimo government of mismanagement of state resources and of allowing corrupt practices with public resources.