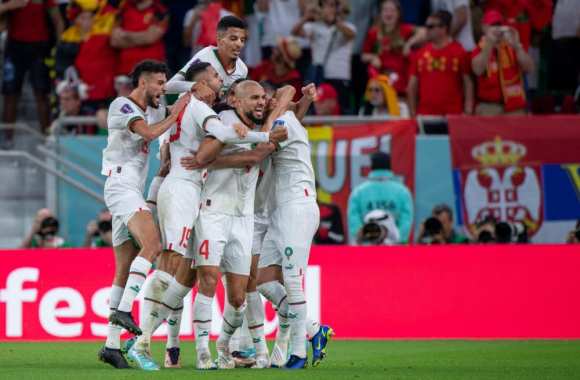 Morocco have beaten all odds at the World Cup 2022 in Qatar. Nobody was expecting the Atlas Lions to knock out European heavyweight champions (Belgium, Spain Portugal) and reach the semi-finals, leaving everybody gobsmacked.
They proved all World Cup predictors and Western sports analysts wrong. Walid Regragui's band of miracle workers are re-writing World Cup history as they become the first Arab and African team to make it so far, remaining among the last four vying for the most covetous world football trophy.
This is one of the most significant events in World Cup history. A dream made real for millions in Morocco, Africa and across the Arab-Muslim world that stand united so joyfully behind the Moroccan team.
With their outstanding performance, Morocco's squad turned the impossible into a vivid reality. Many experts say they can go even further in the tournament and continue making history as they seek to inspire future generations.
On Saturday, Morocco stunned Cristiano Ronaldo's Portugal with a 1-0 win, breaking new ground for the sport outside Europe and South America.
Moroccan striker Yussef Ennasiri scored the winning goal in the first half, leaping highest to beat goalkeeper Diogo Costa to the ball and heading in to spark euphoric scenes at the Al Thumama Stadium and left them one game away from the World Cup final.
Due to injuries of several players, Morocco sat back for the majority of the second half and Yassine Bounou brilliantly tipped over Joao Felix's drive, the closest they came to an equaliser.
Morocco striker Walid Cheddira was sent off for a second yellow card in eight minutes of additional time but Portugal could not find the equaliser as their last-four hopes were dashed.
As the final whistle blew, millions of jubilant Moroccan fans poured onto the streets of Rabat, Casablanca, Tangier, Agadir, Laayoune, Dakhla, Oujda, Meknes, Fez… to celebrate their team's historic triumph on the global stage.
The cars were beeping every second, supporters were dancing in the street and hanging out of their car windows with Moroccan flags.
Wild celebrations of Morocco's sensational victory also erupted in Qatar, France, Belgium, UK, U.S., Spain, Palestine, Lebanon, Yemen, Egypt, UAE, Bahrain, Saudi Arabia, Senegal, Côte d'Ivoire, Gabon, Nigeria, Ghana…
Videos posted on social media networks show bedlam fans draped in Morocco flags. Some beeped car horns while others were seen dancing while holding red flares, the colour of the flag of the North African Kingdom.
Morocco's King Mohammed VI received congratulations from the Emir of Qatar, King of Jordan, Presidents of Gabon, France, Mauritania and the UAE, while the Presidents of Djibouti, Chad, Senegal, Israel ,Turkey and other leaders voiced congratulations in their tweeter accounts.
Similar posts were made by U.S. Secretary of State, Antony Blinken, new Twitter boss, billionaire Elon Musk, the FIFA, several Israeli officials, celebrities, intellectuals, journalists…
According to Arab sports commentators and analysts, Morocco set the bar so high. Henceforth, Arab and African fans will require from their teams to follow Morocco's footsteps in the World Cup 2026. Honorary participation or qualification for the last 16 is no longer an option.
The Atlas Lions set the example to be followed. Their achievements were not fortuitous but the outcome of years of serious work and a farsighted comprehensive sports strategy spearheaded by King Mohammed VI.
Regragui's team combines several stars coming from top European clubs and some key players who have been produced by Mohammed VI Football Academy, set up in 2009.
The modern facility, which stretches over 2.5 km² area, includes a sport village, playing fields… It trains young footballers and turns them into professional players.
The success of the Moroccan experience has now become a model prompting the interests of several countries. But the Atlas Lions have a strong defensive structure. They play with rigorous tactical discipline and a zest that has few parallels. It may not be easy to replicate Regragui's blueprint.