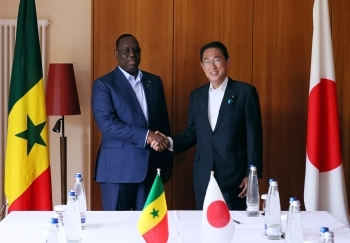 Senegal's President Macky Sall will undertake an official state visit to Japan on December 17-20 in a bid to strengthen relations with the Asian giant.
The Japanese embassy in the Senegalese capital Dakar told the Moroccan state news agency MAP that during the stay in Japan Sall will meet with Prime Minister Kishida Fumio to exchange views on the continued strengthening of bilateral relations, ponder over the outcome of the 8th Tokyo International Conference on African Development (TICAD 8), the situation in Ukraine, and the strengthening of UN functions, including the reform of the Security Council.
Both leader met this year in June, in Berlin, on the sidelines of the G7 Summit. Fumio's office then indicated that discussions touched on important bilateral cooperation projects, such as the promotion of Universal Health Coverage (UHC).
Kishida, equally according to his office, expressed his concern over the pain inflicted on Africa as a result of Russia's aggression against Ukraine. Pointing out that Russia is causing a global food crisis by inflicting damage to Ukraine's agriculture and hindering grain exports.
The Prime Minister also stressed that Japan would provide food assistance to African countries.
"The two leaders also exchanged views on the United Nations reform, including Security Council reform and strengthening of the functions of the United Nations," the office added in a statement.
Sall will be flying from the U.S to Japan. The Senegalese leader will attend the U.S-Africa Summit hosted by President Joe Biden, in a push to curb China and Russia's influence in Africa.