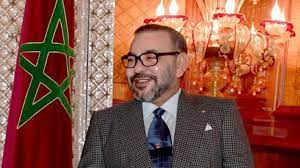 King Mohammed VI has congratulated the Atlas Lions, paying a vibrant tribute to the coach, players and all the components of the national team for their brilliant achievements in the world cup tournament, where they reached the semifinal.
This came in a phone conversation with the coach of the national team, Walid Regragui, at the end of the semi-final match of the FIFA World Cup Qatar-2022, which opposed, on Wednesday, the national soccer team to its French counterpart and which ended with the victory of the French team.
During the phone talk, the Sovereign paid a vibrant tribute to the coach, the players and all the components of the national team for their brilliant achievements during this Cup, while wishing them full success in their upcoming games.
The King praised the performance of coach Walid Regragui for having been able, in only a few months at the head of the national team, to forge a group of players so compact and so combative, to the point of marking this competition and to honor the Moroccan people and the international public by his high values of sportsmanship and his exemplary talent.
The King also spoke with the captain of the national team Romain Saiss to whom the Sovereign wished a speedy recovery for his injury, and congratulated him for his leadership, while asking him to convey the warm Royal congratulations to the whole team.
King Mohammed VI has also had a phone call with President Emmanuel Macron whom he congratulated for the qualification of the French team to the final of the prestigious World Cup competition.
After an epic journey, the Atlas Lions which were the revelation of the World Cup 2022 in Qatar lost to France, the title holder, on Wednesday. They will challenge Croatia for third place on Saturday.
At the end of the match, President Macron congratulated the Moroccans in a tweet. "To our Moroccan friends: congratulations for this beautiful journey. You are making football history," he tweeted.