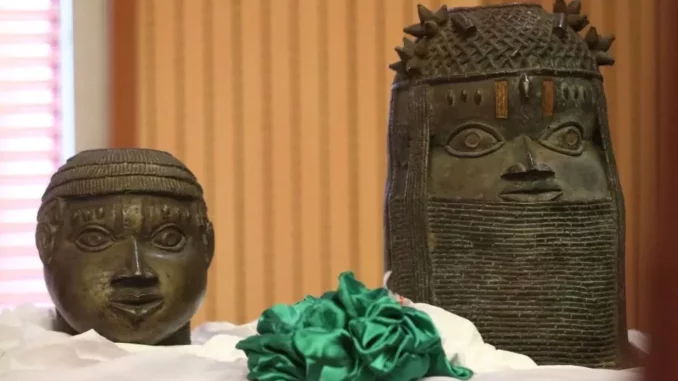 Germany returned 22 bronzes from the ancient kingdom of Benin, looted during the colonial era, to Nigeria on Tuesday in an official ceremony in Abuja.
German Foreign Minister Annalena Baerbock traveled to the Nigerian capital to personally hand over the 22 objects, which include bronze heads and other works. "What we are returning is part of your history; what we are returning is part of who you are," Baerbock said at the ceremony. "We are here to right a wrong," she added.
The Minister of Culture of Nigeria, Lai Mohammed, welcomed this first restitution, thanking Germany for its "cooperation." He also appealed to other nations and museums still holding Nigerian antiquities to "liberate" them, hammering home the point that these works are "our culture and our heritage" and that they have their "place" in Nigeria "and nowhere else."
An agreement was reached on July 1 between Berlin and the Nigerian government after years of negotiations for the return of works that are distributed in about twenty German museums. The museums concerned by these restitutions are the Linden Museum in Stuttgart (south), the Grassi Museum in Leipzig (east), the MARKK in Hamburg (north), the Rauten-Joest Museum in Cologne (west), as well as the Ethnological Museum in Berlin.
The Ethnological Museum of Berlin alone has 530 historical objects from the former kingdom of Benin, including 440 bronzes, considered the most important collection after the British Museum in London. This initiative is part of a series of measures taken recently by Germany to try to come to terms with the crimes of the colonial period, such as the official recognition in May 2021 of a genocide perpetrated in Namibia.
The bronzes, which are among the most renowned African works, were looted from the former kingdom of Benin in southern Nigeria. Most were looted in 1897, when a British expedition attacked and destroyed Benin City (in southern Nigeria today), taking thousands of ivory and metal sculptures in the process.