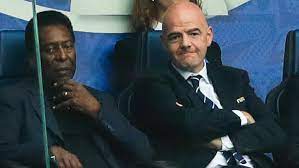 FIFA President assures that the pioneering gesture dignifies the country and honors the memory of the former footballer.
The FIFA President on Wednesday expressed his gratitude to Cape Verde for the initiative to name the National Stadium after Pelé, in a message left on his Instagram account following the Brazilian footballer's death.
"Thank you very much, Cape Verde! I want to thank the Prime Minister, Ulisses Silva, the Minister of Sports, Carlos do Canto, and the Cape Verdean Football Federation, in the person of its president, Mario Semedo, the fact that Cape Verde has announced the intention to name the National Stadium after Pelé," can be read in the note left by Gianni Infantino on the social network.
For Infantino, this pioneering gesture dignifies the country and honors Pelé's memory, adding that he hopes "more stadiums and venues where soccer is played around the world may also join in this global tribute.
Pelé died on Thursday, at the age of 82, at the Albert Einstein Israeli hospital in São Paulo, following multiple organ failure as a result of the progression of colon cancer. The former soccer player had been admitted to that hospital since November 29 for chemotherapy treatment of a colon tumor and treatment of respiratory infection.
Born on October 23, 1940 in the city of Três Corações, Minas Gerais, Pelé was the only footballer to have won the World Cup three times, in 1958, 1962, and 1970. He scored 77 goals in 92 international appearances for the Brazilian national team and played for the Brazilian club Santos and for the Cosmos, in the United States.