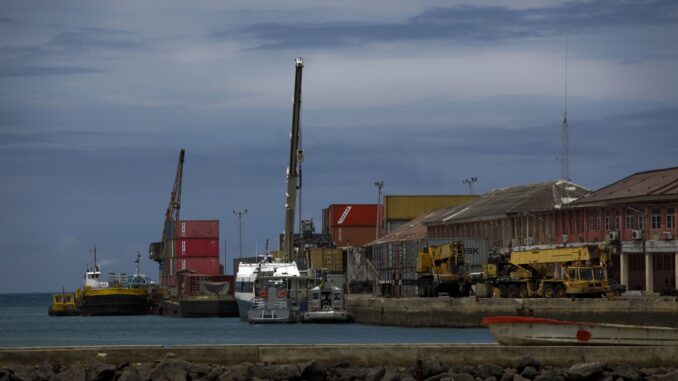 Workers at the port of São Tomé suspended activities today and accused the new administration of the company managed by the Safebond consortium of misusing 40.7 million euros from the workers' social fund, an accusation rejected by the company.
"The president of the fund says that there is a debt from Safebond to the social fund, so it was not possible for the `plafond' that the workers stipulated to be fulfilled, so that is the revolt and the workers are asking Safebond to return the money immediately which is 1,000,234,734" dobras (40.7 million euros), said the vice president of the Enaport workers union, Luís D`Alva.
A worker, Elcio Barros said that Safebond has been using the monies from the workers' social fund to do the day-to-day management of the port.
"Basically they are stealing from us here. Even when they took the company they took money from Enaport that was in the account, they ate all the money, now they are eating money from the worker's social fund. This is unacceptable. If the company aim is to invest, not use workers' money to do the day-to-day management", said Elcio Barros.
The employees ask for the "intervention of the Government" and affirm that they will not resume work until the money from the social fund is reinstated.
"When we took over the port there were many difficulties. Speaking of the fund, there was a lot of debt and liabilities that we are dealing with that […] This morning we had a meeting and we saw the total debts that we found at Enaport and that debt was 118,965,182 dobras [4.85 million euros] and for the social fund debt we found 5,762,415 dobras [235,000 euros]," said Samuel Ntow-Kummi, general manager of Safebond Consortium STP.
The official assured that he will settle the workers' social fund amounts on Friday.
The previous government of Sao Tome and Principe, led by Jorge Bom Jesus (Movement for the Liberation of Sao Tome and Principe/Social Democratic Party), signed a 30-year concession contract in August last year with the Safebond consortium, which involves the privatization of the ports of Ana Chaves, in Sao Tome, the port of Santo António, on the island of Principe, and also the rights to build and operate the deepwater port in Fernão Dias, Sao Tome.
The deal was formalized on October 14, after the legislative elections that the Independent Democratic Action (ADI) won with an absolute majority.
Príncipe's regional authorities have disputed the deal, saying they were not informed of the agreement, which "grossly violates the political status" of the island.