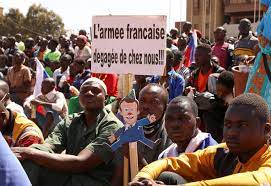 Burkina Faso's military government has reportedly suspended accord with France and ordered hundreds of its troops stationed in the West African country to leave within a month.
The decision to oust the French military, announced by the state media on Saturday (21 January), follows mass protests in the capital Ouagadougou demanding the French exit. The move comes five months after France completed its withdrawal from Mali after nine years fighting Islamist rebels alongside regional troops. Many people in Burkina Faso are said to welcome plans by the military government to oust French troops within a month. More than 60 years after Burkina Faso's independence, France has maintained strong economic and humanitarian aid ties with its former colony, but now many have lost patience with the European Country.
The decision is the latest sign of deteriorating relations between France and its former colony since a second military coup in September of last year, which has seen many anti-French protests urging the junta to instead strengthen ties with Russia. Mali has already hired Russian mercenaries from the Wagner Group, who have been accused of widespread human rights abuses there and elsewhere. France has some 400 special forces soldiers stationed in Burkina Faso, which is battling groups affiliated with al-Qaeda and ISIL (ISIS). There was no immediate comment from Paris.