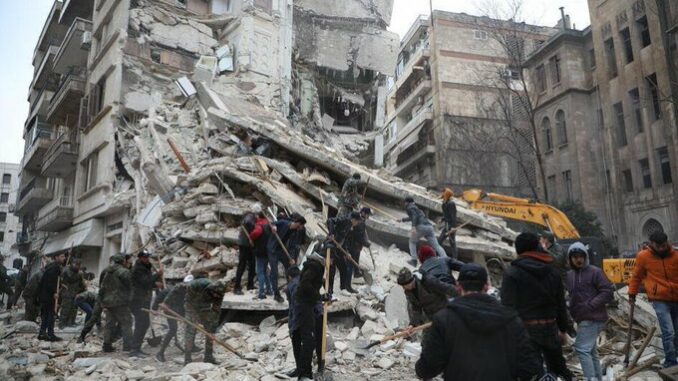 Leaders of African nations and continental bodies are expressing their condolences and solidarity with Türkiye and Syria, and offering help with rescue efforts after a massive 7.8 magnitude earthquake devastated parts of the two countries Monday February 6.
They included the King of Morocco, and the presidents of Burundi, Ethiopia, Gambia, Nigeria, Senegal, South Africa, Somalia and others. The continental bodies included the African Union (AU), the East African Community and the Intergovernmental Authority on Development (IGAD), with the AU Commission chairperson Moussa Faki-Mahamat welcoming the "global outpouring of support and solidarity" and pointing out that "Africa stands in unwavering solidarity and sorrow with the government and people of #Turkiye and #Syria". Their condolences come as dozens of nations and organizations from all across Africa and the world also offered to help with rescue efforts in southern Türkiye and northern Syria, where the death toll has exceeded 18,000 according to latest reports.
Many countries are sending aid and rescue workers to assist recovery efforts in Türkiye and Syria, while UN Secretary General Antonio Guterres launched a heartfelt appeal urging the international community to participate in this race to save lives.
"In the face of this epic disaster, I strongly appeal to the international community to show the people of Türkiye and Syria the same kind of support and generosity with which they received, protected and assisted millions of refugees and displaced people. Now is the hour to stand up for the people of Türkiye and Syria."
"People are facing nightmare on top of nightmare. The earthquake struck as the humanitarian crisis in northwest Syria was already worsening, with needs at their highest level since the conflict began."
He said the UN had done its best to respond speedily to what is "one of the biggest natural disasters in our times."
The first UN convoy crossed into northwest Syria on Thursday through the Bab al-Hawa crossing, including six trucks carrying shelter and other desperately needed relief supplies, and although more help is on the way, he assured, "much more, much more, is needed."
The world is sadly aware of the rising death toll, now beyond 18,000 according to latest reports, and that the full extent of the damage is still unknown, said the UN chief.
"Türkiye is home to the largest number of refugees in the world and has shown unparalleled generosity to its Syrian neighbors. Indeed, up to 3.6 million Syrians have lived in Türkiye for more than a decade. Many of them are now victims of the earthquake."