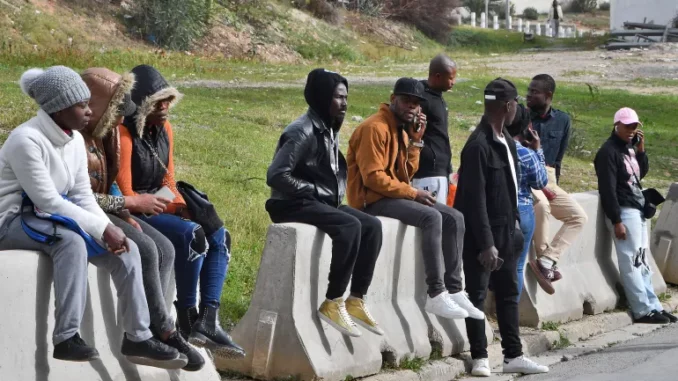 The African Union has criticized Tunisia's authoritarian president and urged him to avoid "racialised hate speech" following his shocking speech directed at migrants from elsewhere on the continent.
President Kais Saied sparked an outcry this week after he made extremely hateful and racist remarks against African migrants who arrive in his country on their way to Europe.
After castigating and making racist remarks against African immigrants, who seek refuge in Europe because of poverty, famine and conflicts in their countries, the Tunisian president went so far as to say that "the undeclared goal of the successive waves of illegal immigration is to turn Tunisia into a purely African country that has no belonging to the Arab and Islamic nations," he was quoted as saying in a Presidency statement issued after a Security Council meeting.
In a statement, the AU Commission said it called Tunisia's representative for an urgent meeting to register "deep shock and concern at the form and substance" of the remarks on behalf of the continent-wide bloc.
"The Chairperson of the African Union Commission Moussa Faki Mahamat strongly condemns the shocking statement issued by Tunisian authorities targeting fellow Africans which go against the letter and the spirit of our organization and founding principles," read the statement issued by the AU Commission on Friday.
Faki said AU member states were obligated "to treat all migrants with dignity, wherever they come from, refrain from racialized hate speech that could bring people to harm and prioritize their safety and human rights".
Tunisian rights groups accused Saied of hate speech, but the president said those accusing him of racism "want division and discord and seek to damage our relations with our brothers".
Saied, who has seized almost total power since a dramatic July 2021 move against parliament, urged his national security council on Tuesday to take "urgent measures" to tackle irregular migration.
Several other politicians and organizations slammed Saied's racist remarks. "It is a racist approach just like the campaigns in Europe… the presidential campaign aims to create an imaginary enemy for Tunisians to distract them from their basic problems," Ramadan Ben Amor, spokesperson for the Tunisian Forum for Economic and Social Rights, told Reuters.
The Tunisian president, university professor, should not ignore that migration is an enrichment for the host society and the fact of asserting that Africans are the primary cause of Tunisia's problems shows a serious ignorance of the Tunisian reality.
Claiming that sub-Saharan migrants threaten the country's identity is a nameless aberration.
With a simple glance at the world map, the author of these remarks would have realized that Tunisia is already on the African continent. It is as African as Niger, Congo or Tanzania.
On Thursday, Kais Saied backtracked on his racist remarks on Sub-Saharans, telling his Interior Minister that the migrants, legally established in Tunisia, must not fear anything. But the damage is done!
According to official figures quoted by the Tunisian Forum for Economic and Social Rights, Tunisia – which has a population of some 12 million people – is home to not more than 21,000 citizens from sub-Saharan African countries, most of them being in an irregular situation.