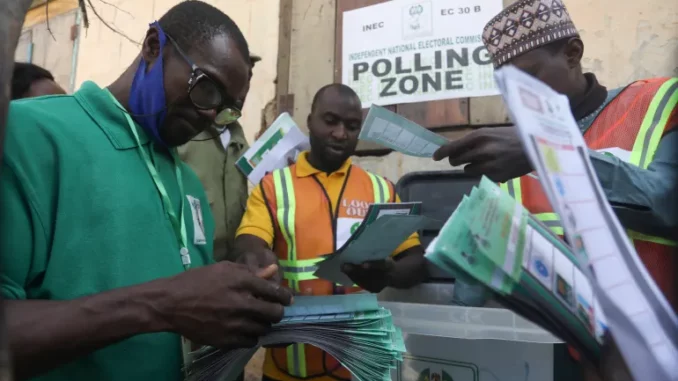 Nigerian presidential outsider Peter Obi won the most votes in the key state of Lagos, narrowly ahead of the ruling party candidate in his stronghold, according to provisional results released Monday by the Electoral Commission (Inec).
The economic capital of Africa's most populous country is one of the biggest vote-getters in this hotly contested presidential race between three favourites, whose state-by-state results are only just being announced. Peter Obi, the Labour Party (LP) candidate, won 582,454 votes (nearly 43% of the votes cast in Lagos).
Outsider Peter Obi has pulled off a surprise victory in the key state of Lagos, a stronghold of the ruling party, according to the first results of the presidential election in Nigeria, Africa's most populous country, after a close vote whose outcome remained uncertain on Monday.
More than 87 million voters cast their ballots on Saturday to choose from among 18 candidates the person who will have the tough task of turning around Nigeria for the next four years, a country plagued by a sluggish economy, recurrent violence by armed groups and bandits, and widespread impoverishment of the population.
The bustling economic capital has the largest number of registered voters in the country, more than seven million, and is the stronghold of the ruling APC candidate Bola Tinubu, 70, whom he governed from 1999 to 2007. With 46 per cent of the vote in Lagos, according to the provisional results of the National Electoral Commission (INC), Mr. Obi has a narrow lead of less than 10,000 votes over his main opponent.
The announcement of the full results will take time: as of midday Monday, the National Electoral Commission (Inec) in Abuja had given official figures for only four states: Ekiti (APC), Osun (PDP), Ondo (APC), and Kwara (APC).