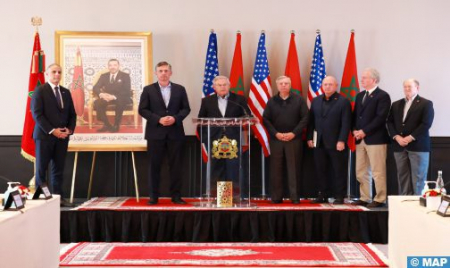 A delegation of U.S. Senators has praised the key role of King Mohammed VI in advancing peace, prosperity and security across the region and throughout the world.
"We express our deep appreciation to His Majesty King Mohammed VI for his commitment to strengthening relations between the U.S. & Morocco, and for his key role in advancing peace, prosperity and security across and throughout the world", said Senator Bob Menendez on Monday in Casablanca following talks with FM Nasser Bourita.
It was an opportunity to review the strong Moroccan-U.S. relationship and discuss bilateral cooperation to address, together, a wide range of regional and international challenges, added Mr. Menendez, chairman of the Senate Foreign Relations Committee, one of the six-member senators delegation visiting Morocco.
Talks also covered bilateral partnership on a range of security issues, including the fight against terrorism, underlined the Democrat senator, describing Morocco as one of the U.S. "closest and oldest" allies of the United States.
For his part, Republican Senator Lindsey Graham said that U.S. congressmen from both parties see Morocco as a stabilizing force in an unstable region, affirming that the North African Kingdom "stands out as a stable force".
He also described the relationship between Rabat and Washington as one of "the strongest that the United States of America maintains in the region".