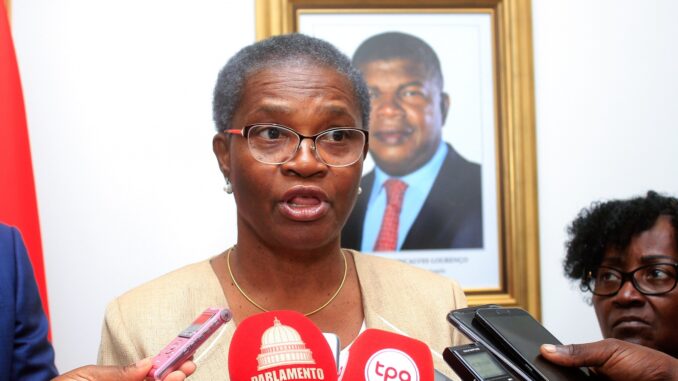 The President of the Republic of Angola, João Lourenço, announced Wednesday that he has accepted the resignation of Exalgina Gambôa as president of the Court of Auditors, after she was found guilty of extortion, embezzlement and corruption.
In the same document, it is also communicated the resignation of the function of judge-counselor of the Court of Auditors, also accepted by the head of state, according to a note of the press service of the Angolan presidency.
Exalgina Gambôa presented her resignation this morning to the President of the Republic, João Lourenço, with knowledge to the Superior Council of the Judiciary, a day after being constituted defendant for crimes of extortion, embezzlement and corruption, in a process where her son Hailé Vicente da Cruz is also a defendant.
On Monday, Angolan President João Lourenço announced that he had invited Exalgina Gambôa to resign from office on February 21 due to several "occurrences" involving her. However, until the date she decided to publicly pronounce herself on the fact, the judge had not presented her resignation.
Exalgina Gambôa chose to submit a request for early retirement, citing health reasons, on the same day, before now submitting her resignation.
In the event of a vacancy, the presidency of the body that oversees Angola's public finances will be held on an interim basis until a new contest is opened.
The name of Exalgina Gambôa has been involved in suspicions since last year when activist and journalist Rafael Marques de Morais, who runs the `site` Maka Angola, called for an investigation into the alleged exorbitant spending of the president of the Court of Auditors (TdC).
At the time, Rafael Marques de Morais revealed that the judge's expenses, supported by the public treasury through the private safe of the Court of Auditors, amounted to about four million dollars (3.7 million euros) and were aimed at equipping her residence with furniture purchased from two companies.
Exalgina Gambôa was also the target of news, initially published by Africa Monitor and later by Correio Angolense, which involved the freezing of accounts of one of her sons (Hailé da Cruz) in Portugal, allegedly constituted with funds from the TdC account domiciled in the Yetu bank.