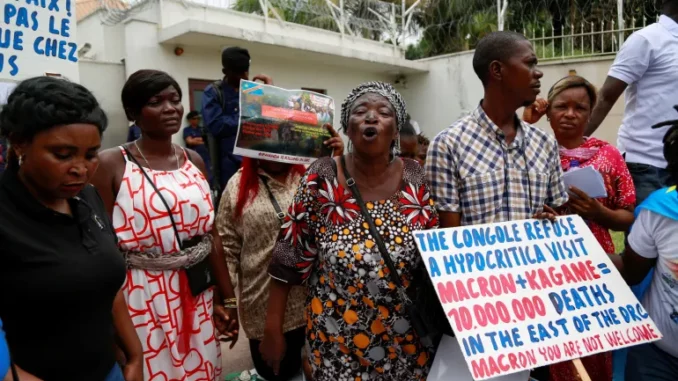 Democratic Republic of Congo (DRC) President Felix Tshisekedi urged visiting French President Emmanuel Macron on Saturday Marcg 4 to sanction neighboring Rwanda for its alleged military support to M23 rebels, as police cracked down on a march protesting against Macron's visit aimed at renewing frayed ties with Kinshasa.
A clash between the French president and his DRC counterpart played out during a joint press conference. Despite the frayed ties and anti-French sentiments running high across the region, Tshisekedi called for an equal partnership between the two states and also urged France to pursue international sanctions against Rwanda over the ongoing violent crisis on its eastern region of Goma.
Macron responded by appealing to the DRC's government to take responsibility over the violence that has cascaded through the region for years. "Since 1994, and it is not France's fault … you have not been able to restore the sovereignty, neither military, nor security, nor administrative, of your country. This is also a reality. We must not look for culprits outside this affair," said the French president.
The DRC government has long accused Rwanda of backing the militia group M23, which re-emerged from dormancy in late 2021, subsequently occupying swathes of territory in North Kivu region.
Independent UN experts, the United States, France and other western countries agree with Kinshasa's assessment, but Rwanda denies the charge.
Meanwhile, at a rally protesting against Macron's visit, many of the demonstrators held up Russian flags and banners with slogans, including one asking Mr Putin for "help." Anti-French sentiment runs high in some former African colonies, as the continent becomes a renewed diplomatic battleground with Russian and Chinese influence growing. Last week, Macron said the era of French interference in Africa had ended and there was no desire to return to the past.