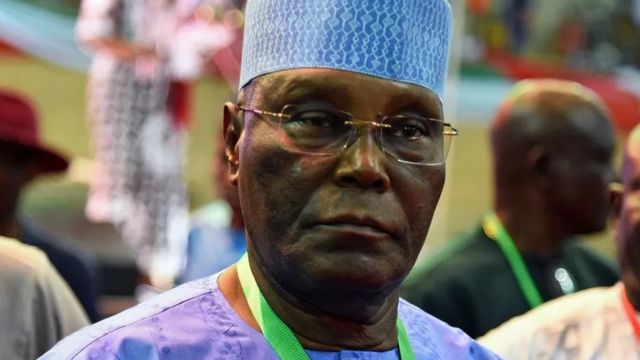 One of the defeated candidates in Nigeria's presidential election, Atiku Abubakar, demonstrated on Monday with hundreds of his supporters in the capital Abuja in front of the headquarters of the Electoral Commission (Inec), which they accuse of manipulating the results.
Bola Tinubu, the ruling party's candidate, was declared the new president-elect of Africa's most populous country by the Inec on Wednesday, after an electoral process whose transparency has been criticized by many observers.
The two main unsuccessful presidential candidates, Atiku Abubakar of the main opposition party (the PDP, which came second) and outsider Peter Obi of the LP, which came third, disputed the results, denouncing massive fraud.
Hundreds of PDP activists, dressed in black, marched to the headquarters of the Electoral Commission on Monday midday, waving placards that read "No to election rigging", "Inec, publish the real results" and "Save our democracy".
The commission "directly aided and abetted the monumental rigging and manipulation of the election results in favor of the ruling party," said PDP national chairman Iyorchia Ayu at the rally.
While the Inec has acknowledged "flaws" in the electoral process, it rejects accusations of fraud. According to the opposition, system failures during the downloading of results allowed the manipulation of ballots and disparities in the results of manual counting in polling stations.
International observers, including those from the European Union, noted major logistical problems, disenfranchised voters and a lack of transparency. Bola Tinubu, the former governor of the economic capital Lagos, will succeed President Muhammadu Buhari, 80, who is due to step down in May with a disastrous record marked by exploding poverty and insecurity.