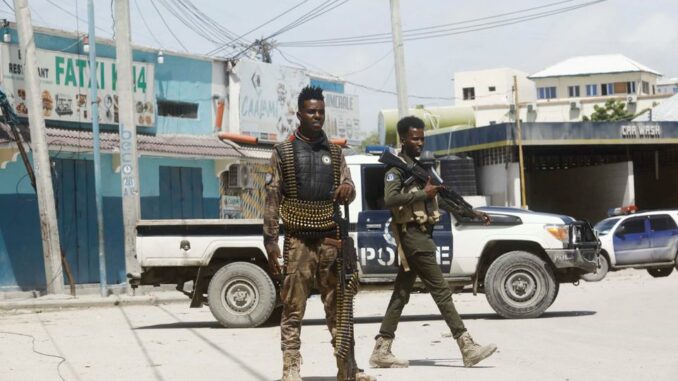 Several Somali soldiers were killed Tuesday in an attack on a military base claimed by the Al-Shebab in a town recaptured from the radical Islamists in January, about 480 kilometers (480 miles) south of the capital Mogadishu, military sources said.
"The terrorists attacked the military base early this morning (Tuesday) in Janay Abdale" in the south, Mohamed Rashed, a military commander based in the town, told the media. "They tried to storm the base after using trucks loaded with explosives to launch the attack, but security forces repelled them. We lost seven soldiers in the fighting.
Authorities had announced in January the recapture of the town Janay Abdale, held by the Al-Shebab Islamists.
"The fighting was very intense and the terrorists were hundreds when they attacked with vehicles loaded with explosives, but we had the upper hand and they lost many of their fighters," said Captain Sugow Abdi who was sent to the scene of the attack, continuing that fifteen soldiers were wounded and several died "as martyrs," without giving further details.
The attack was claimed by al-Shebab, an al-Qaeda affiliated group. The al-Shebab have been fighting the internationally-backed federal government since 2007. Driven out of the country's main cities in 2011-2012, they remain firmly entrenched in large rural areas.
President Hassan Sheikh Mohamoud, who returned to power in May 2022, has promised them an "all-out war" and recently referred to their members as "bedbugs. In September, he sent the army, including special forces, to support local militias, known as "macawisley", who have rebelled against the Al-Shebab.
This offensive, supported by the African Union force in Somalia (Atmis) and U.S. airstrikes, has resulted in the recapture of large areas of two central states, Hirshabelle and Galmudug.