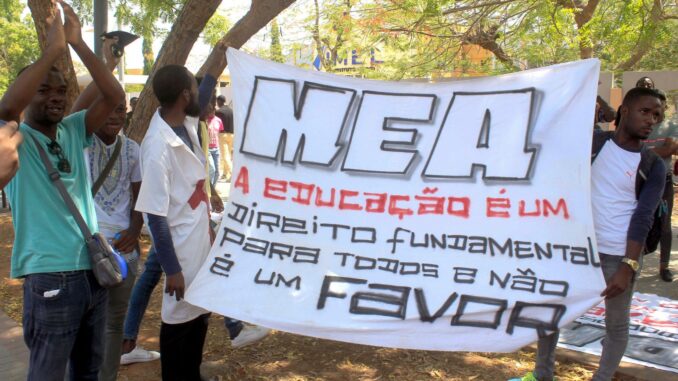 The Angolan Students Movement (MEA) on Thursday expressed solidarity with the higher education teachers, who have been on strike since February 27, and called for the "resolution of the problem".
In a manifesto in favor of the return to classes in public institutions of higher education, the national secretariat for higher education of the MEA says students are being hampered in their academic projects.
According to the students, the strike is affecting students, so "the most important thing at the moment is the resolution of this problem".
"We understand that for everything there is a way, as long as there is political will. In times of such a chaotic society, it is necessary to remember that it is the State that plays this role of guaranteeing health, education, and housing to the people, and this is only possible with the teaching profession. The government has the responsibility to look after the health, physical, emotional, and intellectual integrity of its citizens," they stress in the manifesto.
To the government, the students stress that they "go to school not because teachers need to work," but "because education is a right."
"It scares us to see the Government belittling teachers, putting them in inhumane situations, with lousy salaries, terrible working conditions, etc.," they point out, stressing that the students remain "firm in this current of good, to spread hope and solidarity to education professionals."
The Union of Higher Education Teachers of Angola (SINPES) and the Ministry of Higher Education, Science, Technology and Innovation (MESCTI) have not yet reached an agreement on the points that refer to the improvement of salaries, health insurance and the restitution of the risk subsidy to physical and biological agents. The strike, nationwide and indefinite, follows a previous strike that lasted more than 60 days, which was suspended on November 1, 2022.