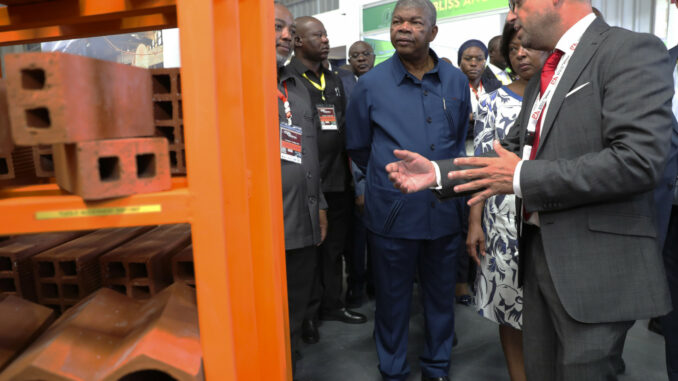 The Angolan Chief Executive, who inaugurated Wednesday the 5th edition of Expo-Industry, in Luanda, noted that during this period (2018-2022), the real Gross Domestic Product (GDP) growth rate for manufacturing industry registered an accumulated 7.7%, highlighting the year 2022 with a growth of around 6%, surpassing the projection foreseen in the General State Budget.
João Lourenço pointed out the impact of more than 200 industrial projects, especially in the food sector, on job creation and self-sufficiency in essential consumer goods, stressing that it is necessary to continue increasing national production to reduce prices, reduce imports and increase exports.
He also noted "the effort that the country has been making in recent years" in terms of improving infrastructure, highlighting the increase in electricity produced from hydroelectric and photovoltaic production, the expansion of power transmission lines, and the investments planned for the water sector.
The textile sector, food production, the extractive and processing industry of granite and ornamental rocks, salt refining, and also metalworking are some of the examples he gave in terms of the development of national productive value chains, from the raw material to the processed product.
João Lourenço also spoke about the start-up of three textile factories to boost the clothing and fashion industries, the growth of the agro-industry, and the need to develop other sectors such as milling, tanneries, shipyards, fishing, and health, among others.
"We need to attract the pharmaceutical industry multinationals to establish factories in Angola to produce the medicines and vaccines we consume and export the surplus," he said.
He also appealed to private investors who want to invest in the naval industry with shipyards to build and repair vessels for the oil, fishing and merchant industry, given the prospect of resumption of iron ore exploration and its transformation into steel.
The 5th Expo-Industry takes place between Wednesday and Saturday in the Luanda-Bengo Special Economic Zone and has more than 230 exhibitors.