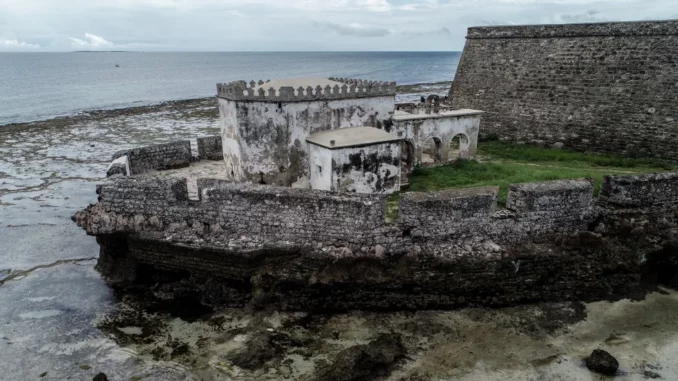 The oldest chapel in the Indian Ocean was built by the Portuguese 500 years ago and will be renovated in 2023, with a project full of history and details.
The rehabilitation project drew from the mysticism and amazement that the building provokes in those who visit, explains the architect who did the work. "During days when I was in the chapel, I could witness visitors who prostrated themselves, who knelt, made prayers, even some who were not religious admired the place," the architect Muahammad Cássimo tells media.
"They felt the weight" of the site's history.
It was on a starry moonlit night that he thought that "with a discreet, yellow light", the chapel would gain an environment that would match the visitors' reactions, in an environment that would be accessible during night visits.
The lighting is planned and budgeted for, and will become a reality. In addition, the chapel of Nossa Senhora do Baluarte boasts several rare and astonishing features.
It is the oldest masonry construction on the entire African coast of the Indian Ocean, the oldest European building standing today, set on a coral bank, right by the sea (on a high tide in 2021, the waves covered it, says the guide) and was built even before the fortress of Mozambique Island was built, which looks more like a giant beside it.
The building withstood attacks from the Portuguese armada, overcame cyclones, but now has its base gutted by five centuries of tides and its skeleton corroded by saltpeter, impregnated by the wind.
The governments of Portugal and Mozambique and the construction company Mota Engil signed in February a memorandum of understanding for the rehabilitation that should start in May.
"One of the biggest problems are the flaws in the foundation", whose wall "was decomposed", leaving the support threatened by "holes that reach three meters" deep, where the waves enter and take away the embankments, leaving the stones without support.
In the limit, if nothing was done, part of the chapel could collapse in the waves.
But the restoration of the base shows how the work will have several peculiarities: in that section it will only be possible to work at low tide and with extra care.
In addition, in the chapel, "there are architectural elements that we could even call archaeological" and for the recovery of which the presence of Mozambican and Portuguese specialists is required, as is the case of a walled tomb that was vandalized.
"There are 12 tombs here, all of important people," explains Momade Raisse, guide of the fortress of São Sebastião and the chapel of Nossa Senhora do Baluarte.Chapel