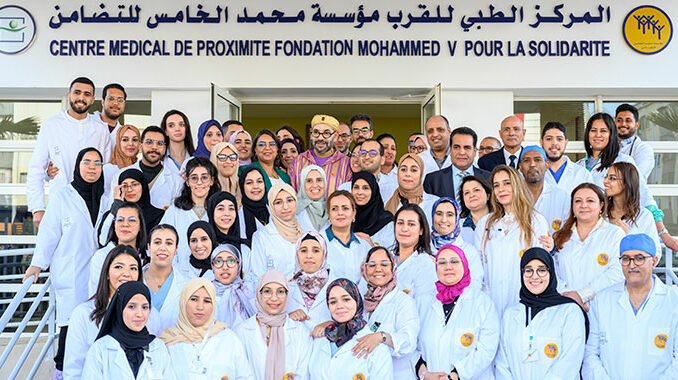 King Mohammed VI on Monday inaugurated a Proximity Medical Center in the new city of Errahma in Casablanca, which required an overall investment of 73 million dirhams.
The Sovereign visited, on this occasion, the various wings of this project established by the Mohammed V Foundation for Solidarity. The Project translates the king's commitment to improve medical services, to consolidate healthcare for populations in vulnerable situations and to ensure a comprehensive, sustainable, and integrated human development.
The implementation of this center is in line with the Sovereign's efforts to promote the access of the underprivileged to basic proximity and quality healthcare, and to ensure a periodic and regular medical follow-up of people whose health condition requires specialized consultations.
Providing 24/7 care, the new Proximity Medical Center, which will benefit nearly 60,000 people per year, will alleviate the pressure on existing hospital facilities in the region, as well as avoid long trips for some poor patients.
It will serve a population of more than 300,000 inhabitants of the new town of Errahma and the surrounding areas, thus ensuring greater complementarity in the health map at the level of the Region.
Like those inaugurated by the Sovereign in the El Youssoufia district in Rabat and Sidi Moumen in Casablanca, and those in Témara and Tangier (Beni Makada district), the new Proximity Medical Center in Errahma is part of a comprehensive program conducted by the Mohammed V Foundation for Solidarity and aimed at supporting the national medical sector.
This program focuses in particular on strengthening the existing health care offer, setting up a local health care network accessible to the population and integrating a complementary social approach into the mechanisms for supporting patients.