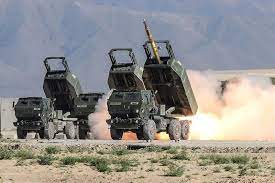 The US State Department has greenlighted the purchase by Morocco of 18 HIMRAS rocket launchers and 40 JSOW guided air-to-surface , the Pentagon said, in deals estimated at 542.2 million dollars and 250 million dollars respectively.
"The proposed sale will improve Morocco's capability to meet current and future threats and will contribute to Morocco's ability to detect threats and control its borders, contributing to the maintenance of regional stability and security. It will also enhance the interoperability of the Royal Armed Forces (FAR), which routinely exercises with U.S. forces, focusing on countering terrorism and Violent Extremist Organizations (VEOs) in the Maghreb and Sahel region. Morocco will have no difficulty absorbing these articles into its armed forces," the US Defense Security Cooperation Agency said in a statement.
The acquisition would make Morocco the only North African country to possess such as potent satellite guided rocket launcher with a range of 300 kilometers that proved efficient in the Ukraine-Russia war.
"HIMARS is one of the world's most advanced rocket artillery systems; its range is farther than anything the Ukrainians had, so when that was transferred they did get the ability to strike targets deeper behind the front-lines and much more accurately," according to Ian Williams, deputy director of CSIS's Missile Defense Project.
Morocco wants to arm the HIMARS launchers with 40 M57 Army Tactical Missile Systems (ATACMS) rounds; 36 M31A2 Guided Multiple Launch Rocket Systems (GMLRS) Unitary rounds; and 36 M30A2 Guided Multiple Launch Rocket Systems (GMLRS) Alternative Warhead rounds.
The HIMARS will add to the WS-2D multiple rocket launchers acquired from China five years ago. The WS-2D has a range of 400 km and can carry a 200 kg warhead. Up to six rockets can be launched from a single launcher. Morocco also acquired a dozen PHL-03 (AR-2) 300 mm multiple rocket launchers from China over a decade ago.
Morocco will use the U.S. missiles on its F-16, multi-role fighter aircraft and will provide enhanced capabilities in effective defense of critical sea lanes.
The State Department says these arms sales will enable the United States help to improve the security of a Major Non-NATO Ally that continues to be an important force for political stability and economic progress in North Africa.