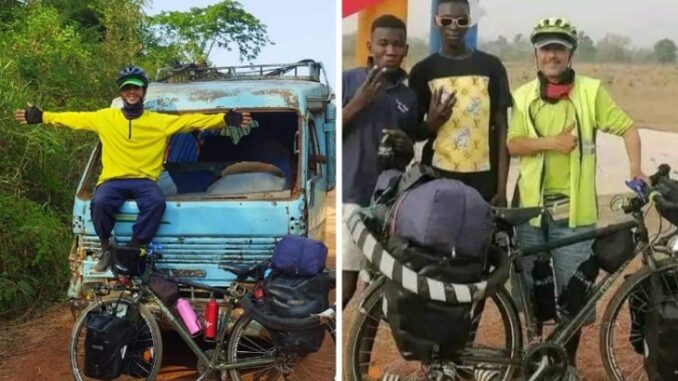 Moroccan and Nigerian security services have managed to free two Moroccan cyclists who have been missing since the end of last March and who were actually kidnapped in Burkina Faso, whose Northeastern parts have been caught since 2015 in a spiral of violence attributed to armed terrorist groups linked to Al-Qaeda and Daesh.
The Moroccan intelligence services, in collaboration with their Nigerien counterparts, managed to free on Saturday, May 13, the two Moroccan cyclists, Abderrahmane Serhani and Driss Fatihi who had been kidnapped on April 1 by a group of unidentified armed men, at the border between Niger and Burkina Faso.
Immediately after confirmation of this kidnapping, the Moroccan services deployed major resources in close collaboration with their Nigerien counterparts to locate the two cyclists. They finally succeeded in releasing them from the hands of their abductors.
Actually, the action of the Moroccan and Nigerien intelligence services which lasted four weeks made it possible to locate the place of detention of the two Moroccans and to free them safe and sound, well-informed sources said Saturday.
The two hostages were taken to hospital for medical check-up before being repatriated to the Kingdom, the same sources said.
The Moroccan security services are renowned for their efficiency, their competence, and their great contribution to South-South security cooperation in Africa. In addition, their assistance is much sought after in terms of training and sharing of experiences and expertise. As such, they enjoy great respect from their African counterparts across the continent.
The two cyclists, Serhani, a 65-year-old retired teacher, and Fatihi, a 37-year-old shopkeeper, had vanished between Burkina Faso and Niger.
The two men had left Morocco on January 19. They crossed the Southern Moroccan border point El Guerguerat, and headed to Mauritania.
In one of their last Facebook posts dated March 29, the cyclists said they were heading to Burkina Faso and that was the last time they gave any news about their cycling tour.
The day after the kidnapping of the two cyclists, Abderrahmane Serhani and Driss Fatihi, between March 29 and April 1 in Burkina Faso, the Moroccan "Touring Bike Association Souss Massa" had launched an alert through social networks to report the disappearance and alert the Moroccan authorities.
Thanks to the efficiency of the Moroccan intelligence services, the two cyclists' adventure has had a happy end in the Sahel, a region where it is not wise to venture these days.