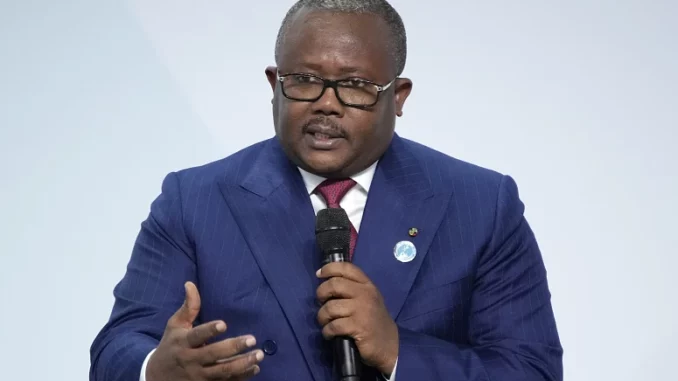 The President of Guinea-Bissau, Umaro Sissoco Embaló urged Tuesday the armed forces to ensure security in the country during the electoral process, and until the inauguration of the deputies to be chosen in the parliamentary elections on June 4.
Sissoco Embaló was speaking to the military, on parade, at the General Staff of the Armed Forces, at the headquarters, at Amura Fortress, in the center of Bissau. Accompanied by the Chief of Staff of the Armed Forces, General Biague Na Ntan, the Guinean President said he was visiting the place as commander-in-chief and not as a politician, to see former colleagues again.
Umaro Sissoco Embaló served the Guinean Armed Forces in the 1990s. "I came to talk to my comrades in the trenches, to tell them to stay away from politicians because all the uprisings that have happened in this country have been promoted by politicians, but those who end up paying are us, the military", said Embaló. Addressing General Biague Na Ntan, the President urged him to urge all elements of the Armed Forces to work to ensure that the electoral process runs smoothly until the new deputies are sworn in.
"I have charged the Chief of the General Staff of the Armed Forces to make sure that things run smoothly. I think that the elections will be fair, free, and transparent, and whoever loses will know how to respect the expression of the will of the majority", observed Sissoco Embaló.
The Guinean President took the opportunity to clarify that he is not involved in the electoral campaign, because he is an "arbitrator of the process" and that no one has seen him with "the jersey on or calling for the vote for a particular party.
Umaro Sissoco Embaló considered that "perhaps some parties" are misinterpreting his words during the ongoing election campaign, which is scheduled to end on June 2nd. In an open letter addressed today to the head of state, the electoral coalition Inclusive Alliance Platform (PAI) — Terra Ranka demanded the President of Guinea-Bissau to stop interfering in the electoral campaign and comply with the law. Made up of five parties, the PAI-Terra Ranka coalition is led by the African Party for the Independence of Guinea and Cape Verde (PAIGC), whose president, Domingos Simões Pereira, the head of state has already warned that he will not appoint prime minister in the event of an election victory.
The leader of the Social Renewal Party (PRS), Fernando Dias has also made calls for Umaro Sissoco Embaló to stay away from the election campaign because they are not elections to choose the President of the Republic. The Head of the Guinean Armed Forces, General Biague Na Ntan, assured that "nothing will happen" during the electoral process and promised peace and tranquility in Guinea-Bissau.