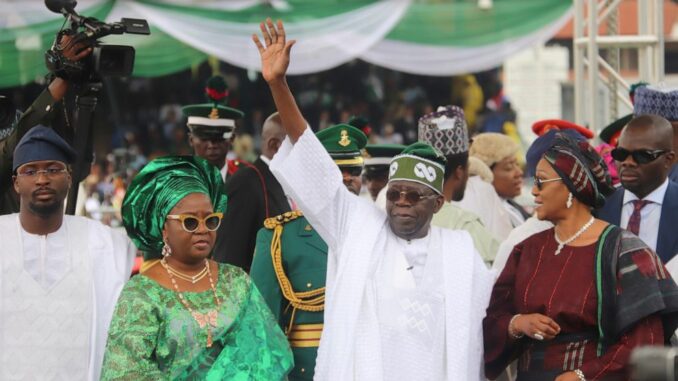 Bola Ahmed Tinubu took the oath of office in Abuja on Monday to officially become the new President of Nigeria, Africa's most populous country mired in economic stagnation and severe insecurity.
"As President of the Federal Republic of Nigeria, I will discharge my duties and functions honestly, to the best of my ability, faithfully and in accordance with the Constitution", declared the new President at his inauguration ceremony in the federal capital Abuja.
Nicknamed "the kingmaker" or "the godfather", due to his immense political influence, Mr. Tinubu had campaigned by stressing that it was "his turn" to lead the continent's leading economy. He highlighted his experience at the helm of Lagos, Nigeria's powerhouse, which he governed from 1999 to 2007.
Many African Heads of State were present, including Presidents Nana Akufo-Addo (Ghana), Cyril Ramaphosa (South Africa), Faure Gnassingbe (Togo), Paul Biya (Cameroon), Alassane Ouattara (Ivory Coast), Mohamed Bazoum (Niger), Sassou-N'Guesso (Congo), etc.
The 71-year-old leader of Yoruba ethnicity, originally from the southwest of the country, succeeds Muhammadu Buhari, from the same party as himself. The 80-year-old former general, a Fulani from the north of the country, is stepping down after two terms in office, as provided for in the Constitution.
The investiture took place three months after the February 25 presidential election, the result of which is being contested by the two main opposition candidates, Atiku Abubakar and Peter Obi, who are denouncing massive fraud by the ruling party. Their appeals are currently being examined.