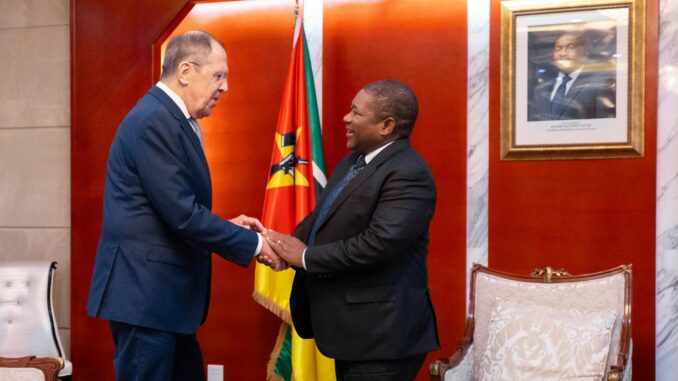 The head of Russian diplomacy, Sergei Lavrov, is due to visit Mozambique on Wednesday, where he will be received by President Filipe Nyusi, "as part of strengthening bilateral relations," the Presidency said in a statement.
The meeting in Maputo is scheduled for 10:00 local time and comes right after another meeting that had already been announced, between Lavrov and the Mozambican Minister of Public Works, Carlos Mesquita.
"The leaders will discuss the strengthening of relations of friendship, solidarity and cooperation, as well as the political, social, economic and security situation of the two countries. They will also exchange views on the war in Ukraine", reads a statement from the Mozambican Ministry of Foreign Affairs and Cooperation (Minec), where the first meeting of the day will take place.
The Portuguese-speaking country has taken a position of neutrality, calling for dialogue to end the war from its position as a non-permanent member of the United Nations Security Council, a two-year term that began in January. Mozambique was among the countries that abstained in votes at the United Nations (UN) General Assembly condemning Russia's invasion of neighboring Ukraine.
Sergei Lavrov is in Maputo as part of his tour of African countries. The head of russian diplomacy began his tour of Africa on Monday in Nairobi, where he met with Kenyan President William Ruto, and Tuesday he was in Bujumbura, Burundi, where he discussed with his counterpart, Albert Shingiro.
Lavrov is expected to attend a meeting of the Foreign ministers of the BRICS (Brazil, Russia, India, China, and South Africa) group in Cape Town on Thursday and Friday in preparation for the Summit the african country is hosting next August.
The minister's trip also comes ahead of the second Russia-Africa Summit, to be held in St. Petersburg in July. The visit to Africa comes after Ukrainian Foreign Minister Dmytro Kuleba last week concluded a tour of the continent – which included Mozambique – during which he urged african countries to end their neutrality regarding the war against Ukraine.