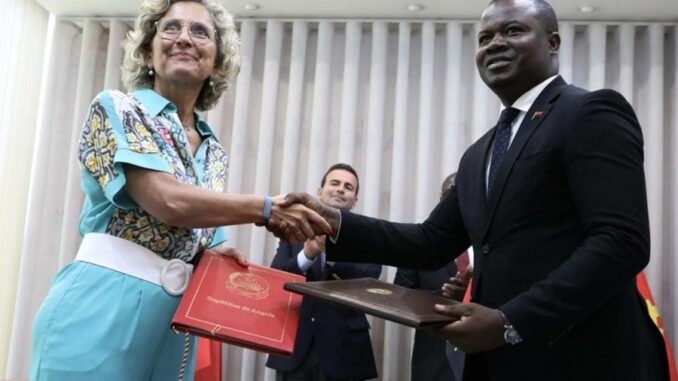 The Minister of Territorial Cohesion celebrated this Monday the Day of Portugal in the "land that saw her born", Angola, stating that the two countries are partners and fellow travelers.
Ana Abrunhosa was speaking at the Portuguese School of Luanda, as part of the commemorations of the Day of Portugal, Camões and Portuguese Communities, which will also include the fado singer Ana Moura.
Excited to "return to the land" where she was born, she talked about the connection she has developed with Angola, a country to which she feels she belongs forever.
"Even when we are far away. Even when that country was ours only on 'loan'", said Abrunhosa, pointing out that the two countries share a centuries-long history that has allowed them to become partners, advisors, and travel companions.
"That is what we are today", he stressed. The minister, who signed an agreement with her Angolan counterpart on territorial cohesion, celebrated the "intense economic relations" that already exist with Angola and its immense potential, mentioning the policies for economic diversification "because they are important for Portuguese investors who wish" to reach this market and for opening the European market to Angola exports.
"Portugal will always be a partner, sharing experience in areas where it already has recognition and value, such as the agricultural sector, textiles and footwear, pharmaceuticals, tourism, renewable energy and information and communication technologies", she added.
According to Ana Abrunhosa, there are more than 1,200 companies with Portuguese or mixed capital operating in this market in various sectors. Last week, Prime Minister António Costa was in Luanda to sign the new Strategic Cooperation Program 2023-2027 and a total of 13 legal instruments, recalled the minister, stressing the importance, "even from a symbolic point of view," of the new program, 45 years after the signing of the first cooperation agreement between the two countries.