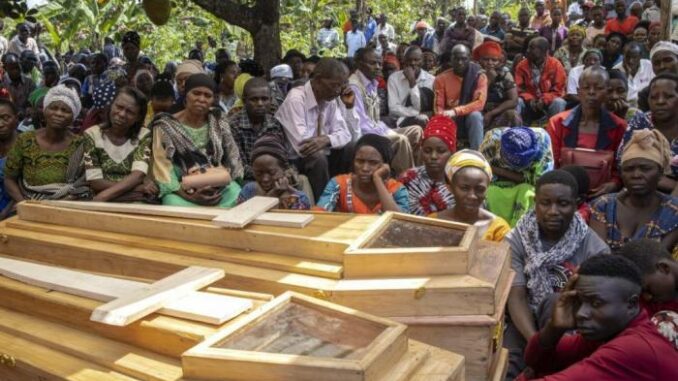 Authorities in Uganda announced on Monday the arrest of three people following last week's massacre by terrorists at a high school, which left at least 41 people dead, most of them students surprised in their dormitories.
"Three people have been arrested and are being questioned about the attack. Details will follow," assured Joe Walusimbi, the district commissioner of Kesese, the area where the Lhubiriha high school in Mpondwe is located.
"In the meantime, the public is invited to remain vigilant and provide information to the security agencies regarding the attack", he added, without giving details of those arrested.
The announcement comes as families are still awaiting the results of DNA tests on Monday to identify the victims of the massacre, who were attacked with machetes, shot dead or burned alive on Friday evening in this school, near the border with the Democratic Republic of Congo (DRC).
Fifteen other members of the community, including five girls, are still missing. Ugandan army and police officials have incriminated members of the Allied Democratic Forces (ADF), an Islamist militia that has pledged allegiance to the Islamic State group. Seventeen victims were burned beyond recognition when assailants set fire to a dormitory, complicating the identification of victims and the count of missing persons.
According to officials, the 41 victims include 37 students and four other people, including a security guard. President Yoweri Museveni on Sunday described the massacre as a "desperate, cowardly" act, and promised to eliminate those responsible for the bloody assault, the worst of its kind in the country for years.