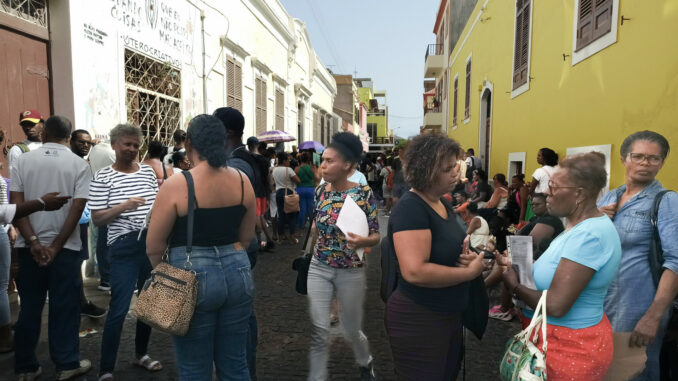 More than 20% of Cape Verdean families consisted of just one individual and 91.1% had access to electricity, according to the IMC 2022 report on household living conditions statistics.
According to the study by the National Statistics Institute (INE) of Cape Verde, 22.5% of households, in 2022, "were nuclear conjugal households", made up of the representative, his or her spouse and children and/or stepchildren, while single-person households, of a single individual, accounted for 20.2% of the total.
Single-parent nuclear households, consisting of the representative, the respective spouse, children and/or stepchildren, represented 16.8% of all households in the country. According to INE, the Continuous Multiobjective Survey (IMC) 2022 was conducted from a sample of 9,918 households, "selected randomly and independently within each county, respecting representativeness at the national level, by means of residence and for the 22 counties."
"The sample has a confidence level of 90%, for a relative precision of 10%. The sample, when weighted, translates into a total of 399.074 individuals distributed in 147.984 households, at the national level", he adds.
The study estimates a resident population in Cape Verde in 2022 of 491,233 individuals, distributed among 147,984 households, with an average size of 3.4 persons per household. In terms of population distribution by gender, 52.6% were women and 47.4% were men.
"Cape Verde's population remained young, with about 28.2% of the total population being under 15 years old and 16.5% between 15 and 24 years old. The elderly population (65 years or older) represented 6.7% of the total population in 2022", the study also states.
Cape Verdean households "lived mostly in classic dwellings," equivalent to 99.4%, and mainly in independent dwellings (74.4%). 25.0% of households lived in apartments, and only 0.6% lived in non-classical dwellings, "such as shacks, mobile homes, improvised dwellings in buildings not intended for habitation." The percentage of households living in dwellings with electricity was estimated at 91.1% in 2022, showing "some discrepancies between urban and rural settings."
This indicator was more favorable in urban areas, with 92.1%, compared to 87.5% in rural areas, and in the absence of an electricity grid, "7.3% of households used candles as the main source of lighting, and this proportion was higher in rural areas, 10.3%, compared to 6.4% in urban areas.