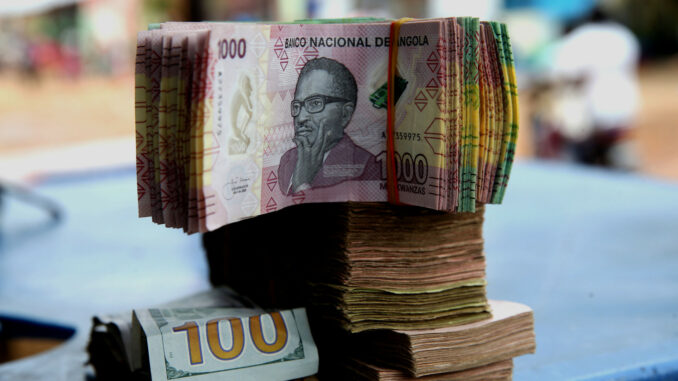 The Angolan currency lost 3.6% in value against the dollar last week, despite a slight recovery between Wednesday and Friday, and has already fallen 38.8% against the US currency since the beginning of the year, according to BFA (Banco Fomento Angola).
"Last week, the kwanza depreciated 3.6 percent against the dollar and 3.9 percent against the euro; after having recorded consecutive daily falls since May, between Wednesday and Friday [of last week] the Angolan currency appreciated 0.51 percent against the euro, rising from 903.8 kwanzas per euro to 899.2 kwanzas per euro," reads the weekly analysis from the economic research office of Banco Fomento Angola on the progress of Angola's main economic indicators.
"As for the dollar, the movement of daily falls continued, but at a much slower pace compared to previous ones, leaving 822.4 kwanzas per dollar to 822.9 kwanzas per dollar", the analysts add.
Since the beginning of the year, "the Angolan currency has depreciated 38.8% against the dollar and 40.2% against the European Union currency", the BFA note also states.
The President of Angola, João Lourenço, has already argued that the Central bank should implement measures to strengthen the kwanza, besides helping the economy to diversify and control inflation.
Inflation in Angola rose to 10.62% in May, ending a 15-month decline, after the Government cut fuel subsidies. The new governor of the National Bank of Angola has already revised the inflation forecast for this year upward, now anticipating a price increase of between 9 and 11% by the end of 2023.
Already this month, the financial notation agency Fitch Ratings downgraded the outlook for the economy from Positive to Stable, keeping the rating at B-.
"The revision of Angola's outlook from Positive to Stable reflects forecasts of lower economic growth, higher inflation and an increase in the debt to Gross Domestic Product (GDP) ratio as a result of the sharp depreciation of the kwanza", reads the note that also explains the decision to keep the rating at B-
Fitch Ratings has reduced its growth forecast to 1.5% of GDP this year, 2% next year, compared to 3.1% in 2022, and also estimates that inflation will rise from 14.7% at the end of this year to 17.1% in 2024, when until now it predicted that next year prices would grow by single digits.